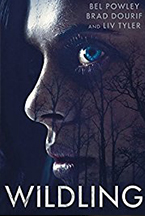 (The 2018 SXSW Film Festival kicked off March 9 and ran all the way through to March 17. Hammer to Nail has a slew of reviews and interviews coming in hot and heavy so keep your dial tuned to HtN!)
An ambitious work of nightmarish fantasy, Fritz Böhm's visually evocative Wildling offers up two-thirds of a magical story before devolving into action-film clichés and narrative incoherence. Prior to its messy conclusion, however, the movie is a marvel of cinematic innovation, its beautiful production design supporting a twisted fable of crime, punishment and redemption that offers a terrific role for lead actress Bel Powley (The Diary of a Teenage Girl). With a supporting cast that includes Brad Dourif (Malignant), Liv Tyler (Space Station 76) and, in a small but memorable cameo, James LeGros (Certain Women), Wildling – Böhm's feature debut – showcases fine acting and cinematography, its disturbing tale shot and set in Rockland County, New York, in the dense woods that sit so surprisingly close to the nearby Big Apple, like an ever-present reminder of civilization's not-so-distant past.
Dourif plays "Daddy," so called by the young girl, Anna, in his charge, though we soon begin to suspect that his role in her life may be more complicated than that of mere parent. In a series of scenes that open the film, Anna grows up in a ramshackle house surrounded by forest, Daddy never allowing her outside, for fear that the "wildling" will get her. Neither she nor we know what such a creature might be, but we assume it's fierce, and Anna's childish drawings portray her own ideas of the unseen monster. So pass the years, until Anna menstruates for the first time. Horrified, Daddy starts injecting her with a substance meant to stave off womanhood, claiming that otherwise the wildling can follow her scent. Flash forward a few more years, and now Anna (finally played by Bel Powley) lies sick in bed, seemingly about to die, while a remorseful Daddy breaks out a pistol and shoots himself in head.
Cut to a more ordinary world, where the local sheriff, Ellen Cooper (Tyler), sits in the hospital, at Anna's bedside, trying to figure out who she is and why someone almost killed her with near-lethal injections. Soon, she brings Anna home with her, nursing her back to normalcy. It's a process helped by her high-school-age kid brother, who takes Anna under his wing, as well, showing her the ropes at school, while also flirting, as teenagers are wont to do. Anna blossoms, especially once the Daddy-administered drug leaves her system. As her body changes, however, she feels the woods calling, tempting her away from the town. Is it the pull of the wildling, cheated of its prey? And what about the wolf-skin-clad hunter (LeGros), watching her from afar? With brilliant command of eerie atmosphere, Böhm keeps us guessing, carefully managing the plot for maximum return on our dramatic investment.
Until, that is, the last act, when things fall apart. Böhm is better at the slow burn than the explosive fire. Once we figure out certain narrative details, the story loses steam, and the action sequences that follow, in their chaotic rendering, merely remind us of how much better was the earlier set-up. Still, it's quite the set-up, and whatever my feelings about the ending, I enjoyed what came previously enough to recommend the film for everything that went right before it went wrong.
– Christopher Llewellyn Reed (@ChrisReedFilm)