MIKE S. RYAN'S SUNDANCE '10 WRAP-UP – Why Sundance Still Matters In The World
On my fourth day, I finally emerged from my screening doldrums. After the streets and the buses became free of the non-film skiers and LA lookeeloos and I saw 3 Backyards, Blue Valentine, and Winter's Bone, I started to think about how essential Sundance still is to American Indie film. Where else would such stellar, uncommercial work be better presented to the public? If these films have any chance of securing a healthy life in your local mall, it is for sure due to their introduction via the national press that has really gathered to grab shots of stars in wacky fur hats. That is the dialectical reality of the Sundance condition.
Yes, there are lots of issues one can have with Blue Valentine—the uneven Brooklyn accent of Ryan Gosling, the lack of actual Brooklyn locations, the fractured flashback structure that tends to slow the narrative rather than thrust it forward, etc.—but ultimately this has fantastic performances in a realistic story that ends with a breakup rather than a fake Nancy Meyers-like kiss. I do think that it may do well with audiences, not just because of the natural fully exposed performances of the two stars but because it's actually okay that they break up in the end; some relationships just don't make it past that first kid. I think most people will agree that if they stayed together it was only going to get worse and, in my own opinion, I didn't see anything appealing in Michelle Williams's character, he could do way better so I think it ended positive. I predict it and Winter's Bone will be the big winners.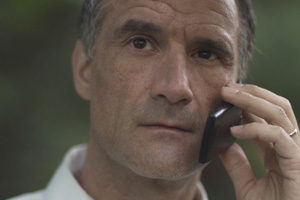 I really enjoyed Eric Mendelsohn's 3 Backyards. Despite its various problems, it is a true ambitious and inventive film that is speaking not only through acting and plot but through its savvy control of music, lensing and pacing. The film's stylistic choice of '70s era American New Wave grammar was a joy to behold on the big screen. I can 't remember the last time I saw so many lens flares and long slow rack zooms. The score was featured as a major character in the film. It is a 20th century, slightly dissonant flute score which has an inquisitive tone rather than the typical score which declares loudly the emotion you should feel at specific plot points. It's the element that most audiences have the greatest difficulty absorbing, in part this is due to the high register of the flute being too intense for the Sundance speakers. I heard tales of the first screening being so loud that audience members were holding their ears. But rather than mix or volume issues, the real problem is that audiences have been brainwashed by decades of limp uninspired scores by Hollywood hacks like Carter Burwell so that when they finally hear a score used in an inventive way they are completely flumoxed. It's not the music they don't like, it's that they are uncomfortable watching a film with a score that doesn't hand them the emotions and themes on a silver platter. Scores like this and Jonny Greenwood's in There Will Be Blood are designed to get you to interact with and work rather than sit back and get stroked by Vivaldi or Hayden like 19th century European treacle.
The film moved with a pace that reminded me of many American New Wave films that were allowed, for a short time, to explore oblique themes through European Art film grammar. The film that it most reminded me of was Alan Rudolph's Geraldine Chaplin feature Remember My Name. I also thought about various later Nick Roeg films. In the Q&A Eric denied any Robert Altman influence or any deliberate allusion to Three Women but I doubt he could deny the influence of other films of that period of time. The problem though is that the use of the heavy score combined with the many rack focus zooms during the narrative interludes is so bold it smothers the small answers the little narrative encounters actually provide.
3 Backyards is a collection of small tiny moments in various people's lives that, when added together, tend to be the true material that constitutes a normal life. It is not the big dramatic moments that mark most people's lives, it's the small beats which we often experience alone or go unspoken between two people that make up the true fabric of our days. That is the point of the film but the stylistic choices seem to provoke people in a way that they are then unable to find the meaning in these small beats. They feel that the booming mysterious music is pointing to something even bigger or more dramatic, not smaller. So it's this disconnect between the grammatical style choices and the theme where I think the film stumbles. But nevertheless, it's a fantastic film full of great moments and insights that are rarely experienced anymore on the big screen.
Between me and Tully, we have seen all of the NEXT section films. Though Bilal's Last Stand and The Taqwacores (the Muslim punk rock film) are great for exploring non-white, off-beat characters, they are stylistically very conservative and ultimately limited by their director's narrow vision of their characters' and themes' potential. We are both in agreement that Linas Phillips's Bass Ackwards was the one film that was most accomplished and demonstrated a true film vision. It is a road movie in the style of such Wim Wenders films as Kings of the Road and Alice in the Cities, films that are not afraid to cover the true slower, awkward moments one experiences on a road trip as opposed to those that are packed full of wacky events and characters. Bass Ackwards is also closest to the true original themes of the road film as a young man's 'walkabout' first articulated in the Goethe novel The Sorrows of Young Werther. The center of the film is Phillips, who is the actor, writer, director and editor. Beautifully lensed by Sean Porter via the RED, Bass Ackwards accurately captures the slow, small rhythms of the cross country trip. Consequently, many viewers felt it 'dragged' or lost its way, others were bothered by the coincidental appearance of the Seattle ex- girlfriend in a NYC subway. I didn't mind either. I like my road movies slow and rambling. Anything else would be false and manipulative.
I saw several great shorts, features and docs at Slamdance, but I want to save that for a separate article. The best New Frontier film, which was another poorly programmed Sundance section this year (where was the Sharon Lockhart type of real non-narrative auteur? Please don't tell me that you think the garish unsubtle color bursts and wacky whimsical narrative of Peperminta's Pipilotti Rist is that person) was the Slamdance film General Orders No.9 by first time filmmaker Robert Persons. I am going to write a longer piece on it but it is basically a lyrical tone poem about the geographical history of Georgia and the South. Inspired more by Herzog's Fata Morgana than a Reggio anti-urban rant, the film is mysterious, lyrical, and completely engaging. It is driven strongly by beautiful landscapes, the poetic trance-like narration and the American equivalent of Popul Vul's music by Stars of the Lid. It should have been the centerpiece of New Frontier but, alas, it might just be too mysterious and challenging for the Sundance audience. I remember how angry much of the audience got during screenings of Lockhart's Lunch Break last year. There were some great docs, shorts and features at Slamdance, but General Orders No. 9 was by far one of the best films—alongside the mind-bending Enter the Void—I saw at either Sundance or Slamdance.
— Mike S. Ryan