BERLINALE '10 WRAP-UP – Part Three
Panorama Dokumente at the 60th Berlinale Film Festival
Budrus (directed by Julia Bacha) — This film won second place for the Panorama Audience Award. (First place went to Lucy Walker, João Jardim and Karen Harley's Waste Land, and third place went to Daniel Schmid, Le chat qui pense by Pascal Hofmann and Benny Jaberg.)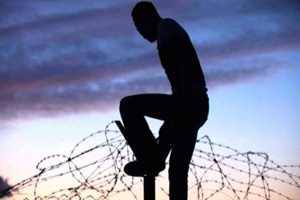 Budrus is a tiny Palestinian village, 31 kilometers northwest of Ramallah with a population of about 1500 inhabitants, many of them children and young adults. In 2003, the Israeli government went through on its project to erect a physical barrier, a giant wall that (seemingly, arbitrarily) cut swaths straight through the town, cutting off the people from their fields of olive trees, their only source of income and the physical manifestation of their familial and spiritual heritage. Some of these trees were promptly uprooted by bulldozers to make way for this wall—in essence, destroying the village's only means of survival. Bacha, who partnered with Ronit Avni, a Palestinian journalist/activist, through Avni's organization, Just Vision, followed the events in Budrus for five years, capturing a nonviolent uprising on the part of the citizens who fought heroically and relentlessly to save their home. And won.
This film is extraordinary on so many levels and provides a truly visceral experience of what it must have been like on the ground there, these villagers bravely facing young, highly trained (but confused and petrified) Israeli soldiers just trying to follow orders. Focusing on Palestinian activist Ayed Morrar, a modest, quiet man (who initially refused to be the focus of the film), she documents the story of this small uprising that made dramatic and far-reaching changes in this insane gerrymandering project on the part of the Israeli government, a small country that has so compromised itself on the human rights front, it's heartbreaking. Another major protagonist is Morrar's 15-year-old daughter, Iltezam, an extraordinarily articulate and passionate young Muslim woman who really becomes the soul of the film. The on-the-ground footage was shot by a team of six people, including Bacha; she, in turn, has expertly edited the piece into a 78-minute testament to how a few "powerless" individuals can change the course of history. In the process of Morrar's work, he also manages to bring together organizations and groups of people that view one another as the enemy. Not only do members of Hamas and Fatah join in, but hundreds of Israeli citizens also take part in these protests, along with a collection of ordinary citizens from all over the globe who come to Palestine simply to bear witness to what's going on there. It was an honor to have Ayed Morrar there for the Q&A with the film team. An exhilarating screening, an important film.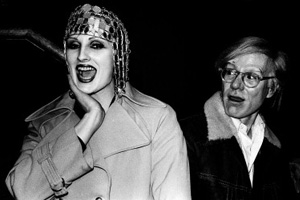 Beautiful Darling: The Life and Times of Candy Darling, Andy Warhol Superstar (directed by James Rasin) — A long time in the making, this story of transsexual performer Candy Darling could have been better told in more proficient hands. There's something really essential missing and I'm pretty sure it has to do with the focus on Jeremiah Newton, purportedly Darling's "long-standing partner," whatever that means. He has spent his whole life, seemingly, devoted to her memory, and not doing much else, in that vampiric sort of way obsessed people do who never develop lives of their own. To use him as the filter or conduit to Darling and her very short, tragic life made the whole affair much sadder and tawdrier than it needed to be. The archival footage is absolutely magnificent and brings us closer to the Darling that very few people knew, but the talking head interviews are cold, rather abysmal and mean-spirited, and the contrivances of the story of her burial plot, alongside the story of Newton's mother's death just depressed the hell out of me; I found it completely inappropriate to the story at hand. This "Warhol superstar" inspired so many artists among the New York underground in the sixties and seventies, I would have hoped she would have received a better cinematic post-mortem. She was an icon of a decade that changed things profoundly in our society in so many ways, a young man straight out of Long Island who dreamed of being a glamorous and beautiful starlet like his heroine and inspiration, actress Kim Novak. I'm not sure where this project got hijacked along the way, but in talking to a producer who has worked on this from the beginning (and is currently uncredited on the film), putting together Darling's story was a massive group effort of researchers, archivists and digging deep into people's attics and scrapbooks. Darling died of leukemia in 1974 at the age of 29. I hope there is someone out there that can do her life story justice. Despite the aforementioned extraordinary archival photos and video, and expert editing, as usual, by Zachary Stuart-Pontier (Catfish, NY Export: Opus Jazz), this film doesn't do that at all.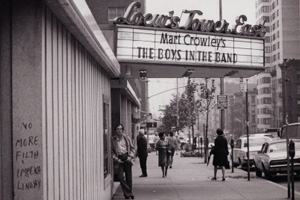 Making the Boys (directed by Crayton Robey) — Robey, in his highly accomplished second feature film (following the multiple award-winning When Ocean Meets Sky), documents the story of Mart Crowley, the man responsible for creating a massively popular stage play called The Boys in the Band, featuring openly gay characters in New York in 1968. Crowley (a very unwilling participant in this project for quite a while) is magnificent in all his crotchety glory and the piece has loads of character—in its cinematography (Eric Metzgar and Charles Poekel), its fantastic score (Fran Minarik and Peter Angell) and its sharp editing (Seth Hurlbert). All of these elements help to place us in late '60s and '70s New York and in sunny California amongst the movie stars. The archival riches, as well, cannot be overestimated (crack New York-based archival researcher, Rosemary Rotondi, really outdoes herself).
For such a play to become a huge hit back then was nothing short of sensational and when The Boys in the Band hit Broadway in April of '68, it had a run of 1,001 performances; its playwright, who hadn't experienced much success up until then but whose name was up on the theater marquee above the title of the play, became very much in demand. Not to mention the query of, "Who do you have to fuck to get a drink around here?" becoming part of the modern vernacular. When William Friedkin's screen adaptation hit cinemas a year later, the story truly became part of mainstream culture. Robey snags a wonderful interview with Friedkin. Without giving too much away, the last quarter hour of the film, when Friedkin appears, packs a very intense emotional punch; it's unexpected, refreshing and brings all the painful history of the gay movement to the forefront of this deftly directed film.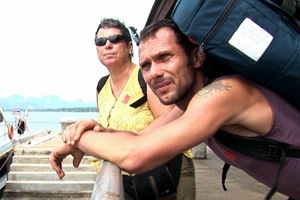 Postcard to Daddy (directed by Michael Stock) — Winner of this year's Teddy Award for Best Documentary, Stock tells an autobiographical story of sexual abuse between the ages of eight and sixteen by his father. Twenty-five years later, before his camera, he confronts his mother and siblings, a left-wing, liberal group who wouldn't imagine that theirs would be a family with a secret like this. As the youngest of three, Michael was the only one to experience this abuse and he wants to know why. In conversations with his family at their mother's home in Germany's peaceful Black Forest, he learns that his sister, Anja, a mother of two sons, has cut off her father from her and her family's life. His brother, Christian, is the only one to keep in touch with their father, although he is also condemnatory of his behavior and actions. This film reminded me very much of Chico Colvard's Family Affair (you can read my review of his film here) in its beautifully crafted, but very basic way of telling an exceedingly painful story. There is a fierce determination to finally heal. Stock, a handsome man with piercing blue eyes, forthrightly discusses his life-long feelings of shame and guilt, his promiscuous sex life, and living with HIV. When he had a heart attack in the fall of 2007 at the age of 39, he decided to face this childhood trauma once again and document the whole thing. On a trip to Thailand with his mother, he decides to make a video postcard to his father.
Waste Land (directed by Lucy Walker, João Jardim and Karen Harley) — Unfortunately, I wasn't able to catch this at Berlinale, but will be seeing it at True/False this weekend (Editor's Note: I saw it at Sundance and wrote about it here). As mentioned above, this film took top prize for the Audience Award in Berlin.
The Oath (directed by Laura Poitras) — A few films were brought to Berlin directly from Sundance; some to go directly into the marketplace to screen for foreign buyers and distributors, some to exhibit in front of festival audiences. Poitras received four screenings at the festival, every single one of them a complete sell-out. Poitras also delivers one hell of a Q&A and I'm excited to report that I will be getting to conduct one of those at the True/False Film Fest this coming weekend. I need to see this amazing film again to properly write about it, so again, will do so post T/F. I'm hoping to grab a sit-down with her, as well. You can read my interview with her from April of '08 about the first film in her post-9/11 America trilogy, My Country, My Country, here. Poitras will also be receiving the True Vision Award in Columbia.
In my last Berlinale wrap-up post: Berlinale Talent Campus DocStation presentations, and grumpy film critics. FYI, the juried prizes of the Berlin Talent Campus are the "Berlin Today Award" given to Bryn Chainey from Australia for the project Jonah and the Vicarious Nature of Homesickness, and the Score Competition went to Camilo Sanabria from Colombia.
— Pamela Cohn
ALSO:
***BERLINALE '10 WRAP-UP PART ONE***
***BERLINALE '10 WRAP-UP PART TWO***