BERLINALE '10 WRAP-UP – Part Four
Berlinale Talent Campus #8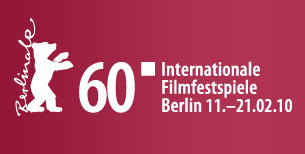 The modest facilities that house the Berlinale Talent Campus, now in its eighth year, are set apart from the main festival's epicenter, the grand Potsdamer Platz and environs. It is its own universe, a vibrant place where talent from all over the world comes to hone skills for taking cinematic wares out into the marketplace.
I decided to forego one day at the cinemas and spend some time there. I managed to get myself a spot as an observer for the DocStation presentations, which turned out to be a hot ticket, and attended a seminar/discussion on film criticism before jumping back into the main festival fray. During a short break between these two events, I nosed around one of the common areas, eavesdropped on conversations, and spoke to several people with projects at the campus that year—composers, filmmakers, writers, producers, etc. There were also a good number of others of their ilk not participating in the Campus directly, but who were there to network (the number one reason to be in Berlin at festival time).
The Campus takes place parallel to the Berlinale and works as an intensive weeklong academy. Creative professionals from every field of the film industry are available as speakers, teachers and mentors for discussion. A number of guests from the festival's program are also invited to discuss their work in intimate seminars.
About 350 girls and boys are invited to Berlin each year to reflect on their cinematic ideas in workshops, lectures and panel discussions, and to work on their projects in specialized hands-on studios. (However, the DocStation is very select and only takes twelve projects.) Satellite campuses with similar constructs are opening up all over the world, particularly in places that do not have any kind of film industry infrastructure. We should start one in New York!
Initiated by Berlinale Director Dieter Kosslick, the Campus is organized by a project team from Berlin and funded by the Federal Government Commissioner for Culture and the Media in co-operation with MEDIA, a training program of the European Union, Medienboard Berlin-Brandenburg, Skillset, the UK Film Council, as well as 40 other partners, embassies and cultural institutes.
Also, another new initiative: since 2004, the Talent Campus has launched a new Internet portal for emerging international film critics: www.talentpress.org. This new portal is open to film critics who are current or former participants of the Berlinale Talent Campus' Talent Press program. It offers them year-round opportunities to publish their film and festival reviews from anywhere in the world. The program invites eight budding film journalists to the Berlinale every year and offers them an intensive look into the inner workings of an international film festival. During the Campus week, they're guided by experienced film critics, such as Dana Linssen, Stephanie Zacharek, Chris Fujiwara and Derek Malcolm. Their articles and reviews are published during the Berlinale in its publications, but also on the Goethe-Institut website and the FIPRESCI site. In addition, for the second year, selected articles from these critics are published in the Berlinale edition of the trade magazine The Hollywood Reporter. This program, too, is being replicated in several other countries.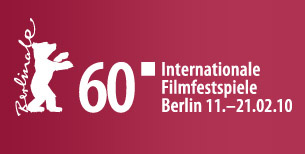 The DocStation projects were presented, as budding film projects often are, as a theater piece; to my mind, a somewhat unfair contrivance for the filmmakers. It takes time away from their voices and focuses more on the event itself and the people staging it. This was no different. The moderator, Sirkka Möller, talked too much, taking up way too much air- time. When she realized the event was going to run over time, she then rushed the filmmakers through their responses to questions posed by Hans Robert Eisenhauer, a well-respected, well-spoken German producer and commissioning editor. At one point, she had an extended ear-whispering conversation with him while a filmmaker was speaking to them!
Eisenhauer's questions weren't meant to challenge the vision of the filmmaker, so much as to request more information about his or her motivations for making the piece. To equalize the playing field, since all the projects were in various stages of development, no trailers were shown, only still photographs that were supplied by the filmmakers. One participating artist complained, however, that Möller, ultimately, got to choose which photos were used, only half a dozen from a choice of about 30 from each project.
The other contrivance, which I thought was kind of horrid, is that they chose two actors to read the one-page treatments out loud as the slide show played. The young man and young woman who read did a valiant job, but there was a lot of stumbling and bumbling around because they had received these materials just the night before. The filmmakers should be allowed to read and/or present their own projects themselves, given the same amount of time it took for them to be read by complete strangers, as if in some community playhouse performance. The projects were also, oddly, presented in "themed" pairs, two filmmakers at a time sharing the stage—again something the moderator had imposed—so that's the way I'll present them here.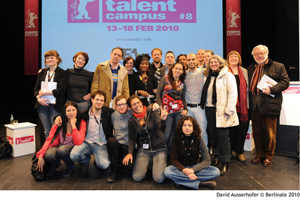 My other complaint was that the first cards which showed the name of the filmmaker and the title of the project went by in a two-second flash, making it very hard for someone taking notes to get it all down properly. No dossier was handed out to spectators, which would have been helpful. Again, this weird sort of control issue that was going on gave short shrift to the filmmakers—the ones who were providing the content for this whole shebang. Okay, gripe session over. But hand it over to the filmmakers more, please, and let them shine. It's their moment. The pitch session three-ring circus needs to go the way of the moderated panel "discussion."
As much as they tried for the aforementioned level playing field, some presentations were stronger, since some people naturally present in a situation like this better than others do, but all in all, a very intriguing group of projects with varying styles and issues; most every filmmaker was extremely articulate in the ways in which they expressed the different imperatives (creative, ideological, personal) for making their films. Some, like Fadi Aindash's Faithless from Jordan, and Dirk Harthey's Disconnected from Germany, were about the filmmaker penetrating into small communities, or into individual lives, that are completely isolated from the larger society—workers living on ships in the middle of the ocean, a leper colony, an old-age home. In Aindash's case, his plan is to penetrate a madrassa (Islamic religious school) that educates Muslim fundamentalists. Aindash's most interesting question as a reformed Muslim: Is there something valid in extremism? As outsiders themselves penetrating these self-contained societies, the filmmakers mean to express the idea of hidden worlds free from the bonds of normal social constructs.
In the case of a couple of other projects, it was about the filmmaker him- or herself living in a country and culture not their own, experiencing their own sense of isolation, i.e., a young Brazilian woman living in the Netherlands trying to make sense of the Dutch term "Gezellig," something even the Dutch can't really define; or a white Australian lad living in his adopted city of Tokyo. Trying to make sense of their chosen homelands was their creative impulse.
Politics and the way in which they intersect with media was another theme presented in a couple of projects, one of which was particularly intriguing: Peruvian journalist Amanda Gonzales Cordova's story about Professor Edmundo Cruz, who investigated and exposed the La Cantuta (Devil's Mouth) killings and the crimes against the citizens of Peru perpetrated by the Fujimori government. Bulgarian filmmaker Tonislav Hristov, who lives in Finland (and had two projects in the DocStation, one as a director, one as a producer, see Woman on Hold below), will tell the story of a prison for boys in Bulgaria where he teaches a film course. He will be asking these imprisoned young men to cinematically realize the things they dream about through their short films as he makes his feature about their lives there. Violeta Ayala (Stolen) was there with a project called Cocaine Prison, a story of how the cocaine industry is the only means possible for Bolivians to survive economically, and how even members of her own family rely on being part of the production chain that keeps that country going. Yet another intriguing project was presented by filmmaker Kaizer, an African living in Canada, called The Smiling Pirate, about Somali piracy through the life of Somalian teenager, Abde Wale Abdul Kadhir Muse, who is in prison facing a life sentence in the States after being captured holding an American ship hostage on the coast of Somalia. Some pirates say they become pirates because western ships are dumping toxic waste in their waters, over-fishing and using the Somali coast to transport illegal weapons to war zones in Africa.
German Marcel Michael Weyn and New Zealander Dan Salmon have projects that are portraits of very unusual artists: Weyn's is about a photographer that also leads the Hell's Angels organization out of Stuttgart (Forever Angel), while Salmon's is about mute painter Susan Wright (Pictures of Susan).
Finally, there were two strong projects helmed by young women, both filmmakers coming from other disciplines: Zambian writer Jessie Chisi, co-directing a project with young up-and-coming Finnish filmmaker, Salla Sorri, called Woman on Hold, about her cousin, Esther Phiri, a champion female boxer going for the Olympics in 2012. Swedish photographer Tora Mårtens tells a reverse-immigrant story of two Colombian brothers raised in Sweden going back to their native country as adults. After telling a friend that I thought Mårtens' was the weakest presentation (and next to Chisi who was electrifying, confident and funny, sounded even more so), he told me, "But yes, you haven't seen her footage or her other films, though. She's a remarkable talent with an incredible eye." Thus, just one more drawback of the floorshow.
Lastly, I'll mention the seminar I attended after lunch called Fear Eats the Soul (a nod to Fassbinder), where film critics Nick James (chief editor of Sight & Sound), David Thomson (curator of the Berlinale Retrospective program), Stephanie Zacharek (Salon.com) and Dana Linssen (Denmark's de Filmkrant) debated the state of modern film criticism.
James has written a very incisive article called "Who Needs Film Critics?," or as the print version was called, "On Provocation," where he purports that today's film critics, for the most part, are simply pawns, or extensions, of the marketing machine around a film, and, for the most part, don't bother to take any kind of substantive critical stance. He also stated that, in his opinion, when film festivals themselves are investing money in films, "pleasing" cinema becomes the norm, foregoing more complex work "that invigorates in a more aggressive way" (he references the work of Gaspar Noé, Quentin Tarantino, Lars von Trier). Statements I don't happen to agree with much, especially because Noé, et al, do definitely get the critical attention they deserve. FILMMAKER Magazine editor Scott Macaulay has one of the strongest interviews I've ever read with von Trier—a fascinating and honest conversation.
But, to me, what seemed to be James' main beef was the "professional print film critic" being "challenged by bloggers." While publications like Sight & Sound are certainly a vital archive of modern cinema, and one hopes will continue to be so into the future, what didn't really seem to be recognized in this rarefied atmosphere (and what the young audience of journalists and filmmakers take for granted) is that in any community, when people make adaptations of the tools necessary to further an art form or discipline, they better contextualize and localize the validity of that art form or discipline. There are many, many fine film critics with blogs that are housing work that, to my mind, is definitely part and parcel of this same archive that James purports to create with his publication. The older operating system needs to be incorporated into the newer operating system, to be sure, but to not recognize that we make, distribute and consume media in an entirely different way now and to try and step into the void a bit and join the rest of us is foolhardy and will, certainly, make them more irrelevant than they already feel they might be.
To a person, all the panelists agreed that it comes down to good writing. Period. And this, of course, is where I wholeheartedly agree. The proviso about being able to write well on cinema, though, can only happen when critics, or anyone writing on the arts in any interesting way, lead expansive lives. If all one is doing is just going to see movie upon movie upon movie, never experiencing any other way in which you can contextualize what you watch in the cinema (reading literature, looking at art, traveling, cooking, flying your own biplane, whatever), then it's really an empty exercise. Zacharek: "In order to write about movies well, one needs to draw on a lot of sources." She also said, "There are intelligent ways to write about crap," and that that is also a really important skill for a good critic to hone. James complains that there is also a woeful lack of intensely personal, risk-taking criticism, the kind where a writer has honed a distinct voice, a distinct point-of-view. He profoundly objects to the "fan boy" way of writing about film, as if one is part of the media machine, meant to bolster already bloated PR campaigns for mediocre work. Yes.
Thomson, always erudite and humorous, but somewhat a bit removed from the proceedings, as if his mere presence was enough, talked about the convergence of "big" and "small" cinema, meaning startlingly fresh and intelligent fare made for television (The Wire, the Red Riding trilogy) which could easily play in cinemas or have the visual and narrative heft to do so (read Lena Dunham's excellent, and intensely personal, post on the Red Riding screenings at the IFC Center here) and something like In the Loop, which to him looked like a television show blown up, for no apparent reason, for the cinema screen. (Be sure to also read Thomson's piece on Red Riding here.)
See, "real" film critics and "bloggers" can live peacefully side by side, enhancing the craft of writing about cinema in new and resonant ways.
All in all a pretty entertaining "debate," although it's a stretch to call it that. Once the audience was asked to dialogue with the panelists, however, there was a distinct disconnect with no one really willing to concede (with the exception of Zacharek) that online film journals, sites and blogs (like this one) mean to fill in the gaps with substantive and meaningful discourse about what's being made today. We do want to celebrate great film, to be sure, and we do want to hone our distinctive voices. We're working on that vociferously. Give us a chance.
— Pamela Cohn
ALSO:
***BERLINALE '10 WRAP-UP PART ONE***
***BERLINALE '10 WRAP-UP PART TWO***