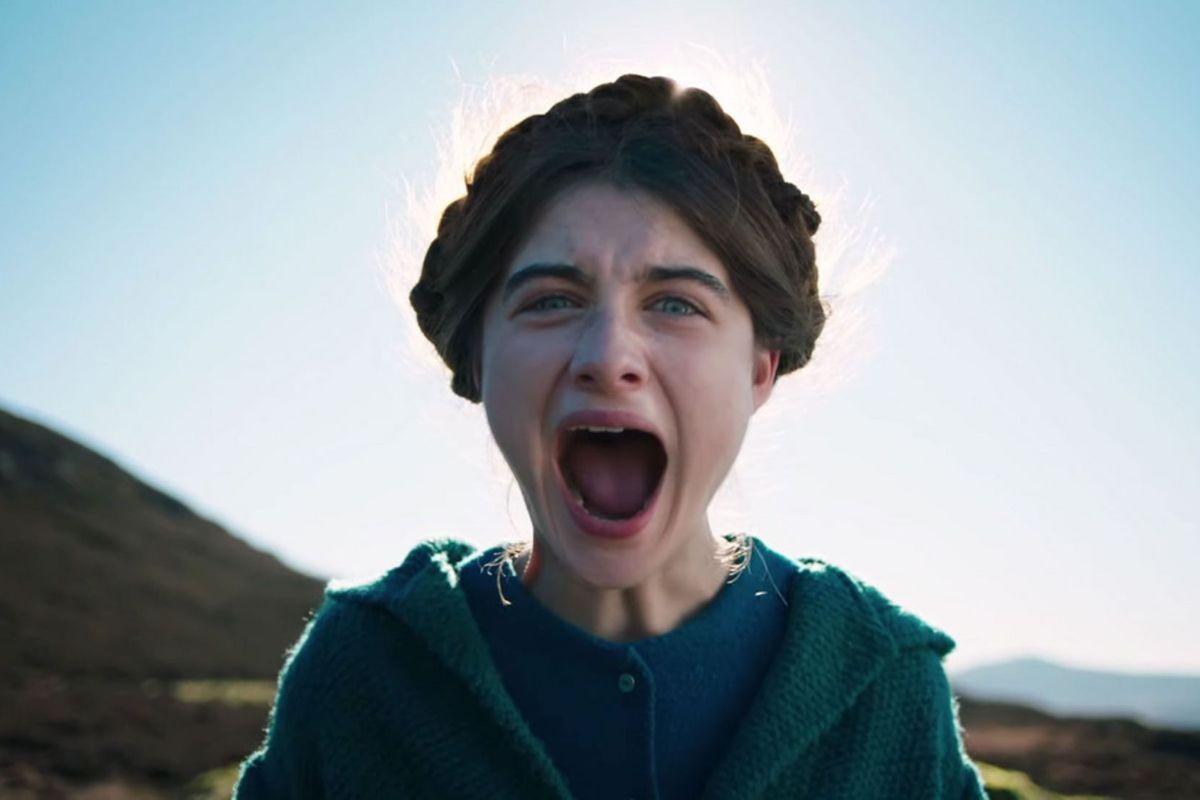 (The 2019 Toronto International Film Festival, or "TIFF"  runs September 5-15. Hammer to Nail has boots on the ground with Matt Delman and Chris Reed covering so keep your browser pointed here! Like what you see here on Hammer to Nail? Why not pay just $1.00 per month via Patreon to help keep us going?)
White sheets swirl in murky water, wrapped around undulating body parts, revealing female forms beneath. It's an image as evocative as it is haunting. Are the women alive? Are they swimming? They seem at peace, whatever their truth. And so begins The Other Lamb, from Polish director Małgorzata Szumowska (Mug). Her first film in English, it takes the viewer on a disturbing journey both geographic and metaphysical, following a cult's slow descent into madness. Or rather, even more madness than usual, for a cult.
This particular group is made up exclusively of women, save for the leader, a man called "Shepherd." Played by Michiel Huisman (The Invitation), coifed in flowing Jesus-like locks, Shepherd acts as polygamous priest, alternating between sermons and seduction, sampling his subjects at will. There are two categories of women: wives and daughters. Some of the latter are his actual daughters (by wives past and present), though the real demarcation is that of first menstruation, after which he transitions them from one side to the other. While the daughters all seem victims of a situation they didn't choose, the older wives are first-generation cult members, having chosen this life to escape misfortune or other, never-specified, trauma. If the why of Shepherd remains a tantalizing mystery, the how is explored in detail.
Among the daughters is one, Selah (Raffey Cassidy, Vox Lux), who at first appears deeply enamored of Shepherd, happy to be one among the many worshippers. Slowly, however, as she watches his behavior and recognizes its full import, not only for her future but for that of the entire group, she begins to question the construct in which she has been steeped. Szumowska is not so obvious as to have Selah tell us her evolving feelings, but rather holds for long periods on intense close-ups of her face and eyes, letting her actress think. Szumowska also inserts visions, dreams and flash-forwards as devices to reveal Selah's emotional state. Given the girl's obviously (to us) rich inner life, it's a wonder that Shepherd is unable to see what lies ahead.
Then again, given that The Other Lamb is mostly a study in male entitlement and the growing female agency that will break it down, Shepherd's arrogant cluelessness makes sense. He is so sure of himself, whether it's in the prolonged march he forces upon his women – one of them very pregnant – when the group is forced to move or in the violent way he inserts his fingers in the mouths of his mates during or in lieu of intercourse. His pleasure comes from control, as it does for so many dominant men. Which brings us back to the swirling sheets, an image returned to time and again. Water is a recurring metaphor, both in terms of its cleansing properties and power to take and give life. It represents the choice between freedom and death. Which path will you take, Selah?
Huisman and Cassidy both shine, as does Denise Gough (Colette) as a disillusioned wife. Stealing the show, at times, however, is the lone ram among the flock of actual sheep attached to the cult. Breathing heavily, he stares mournfully into Selah's eyes, not sure if he should butt heads or run away. Run, dear animal, run! The slaughter is coming, and your time may be up.
– Christopher Llewellyn Reed (@ChrisReedFilm)
Like what you see here on Hammer to Nail? Why not pay just $1.00 per month via Patreon to help keep us going?