WHOLE SHOOTIN' MATCH, THE
(Long overdue, The Whole Shootin' Match is finally being released by Watchmaker Films in a special DVD package that would have made Eagle Pennell proud. Buy it at Amazon
.)
Eagle Pennell's The Whole Shootin' Match is one of those films you hear about later than you should have and don't manage to see until even later than that. But with the film's long overdue DVD release this week (compliments of Mark Rance's new imprint Watchmaker Films), you have no more excuses. Accompanied by the feature-length 2007 documentary The King of Texas, Pennell's first short A Hell of a Note, a rare 1981 interview with Pennell by Rance, and a bonus CD of music from The Whole Shootin' Match and The King of Texas—not to mention a compact, yet thorough, booklet in which friends and fans reflect upon Pennell's career—this gorgeous package is a mandatory addition to the home video library of anyone with an even remotely passing interest in American independent cinema.
While the many bonus inclusions put the historical importance of Pennell's film in better perspective, The Whole Shootin' Match speaks for itself. Pennell's 1978 feature-length debut is a classic example of regional independent filmmaking (it is also widely, and deservedly, noted as the film that inspired Robert Redford to create the Sundance Institute). The film itself may be dated, but only in the best of ways—not in the sense of needing disclaimers, but in the way that it captures a moment in time with such unaffected authenticity (at the time, its presence must have been all the more welcome to viewers hungry for something so honest and pure, but having watched it for the first time last week 30 years after the fact, it was just as much of a revelation). Pennell brings a homegrown enthusiasm to his production, so much so that even when there are obvious technical falsities—a truck-driving scene in which the truck clearly isn't moving—these only add to the film's lazy charm.
Reviving the characters from A Hell of A Note, Pennell and co-writer Lin Sutherland tell the bleak-but-not-altogether-hopeless story of Loyd (Lou Perryman) and Frank (Sonny Carl Davis), two good ol' boys who are searching for that ever-elusive business score. Mind you, this is in Texas, where the oil boom created an unfair and imbalanced measure of success for so many, inspiring Loyd and Frank to dream that much harder. This, however, only adds to their—collective and individual—feelings of predetermined failure when their latest scheme falls flat once again. Though noble in intention (albeit irrationally so), their own ignorance and foolish ways pretty much ensure that Loyd and Frank aren't going to find the pot of gold they so desperately desire.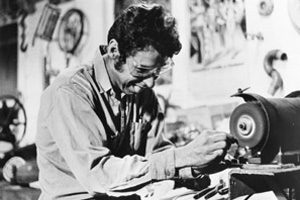 And it is in his exploration of that less-than-happy theme that Pennell's talent shines through. If this were all in the interest of a good ol' time, by golly it might have been good enough (for it still is a good time). But Pennell accomplishes something much more impressive, which points to why the film has left such a lasting impression on audiences everywhere. For The Whole Shootin' Match speaks to the underlying sadness of a particular lower-class American, that dreamer who knows full well that his card isn't the one that has been drawn, yet he keeps on dreaming nonetheless. And though that is a genuinely despairing notion, Pennell never has his characters succumb to outright bitterness. Throughout the picture, a bemused air of optimism—or, rather, an air of shrug-it-off acceptance—prevails. This is directly attributable to Loyd and Frank's (and, most importantly, Pennell's) dependence on the bottle, for as much as these gentleman are drinking to have fun, they're also drinking to numb the pain.
Pennell also rides that line incredibly well when it comes to the marriage between Frank and Paulette (Doris Hargrave), which could have turned into melodramatic hogwash. Yet here he places scenes of comfort and happiness alongside those of bitterness and jealousy, not building to any false resolutions, but capturing marriage as the emotional rollercoaster that it is. As envisioned by Pennell and Sutherland, Frank's constant philandering isn't a dramatic commentary on marital dysfunction; this behavior is merely another sad character fault of a weak man who can't seem to get his act together.
Filmed at virtually the same moment in time, The Whole Shootin' Match plays like a languorous Southern cousin of Charles Burnett's recently re-discovered Killer of Sheep. But it isn't just the grainy 16mm black-and-white cinematography and the fact that both films arrived on the cusp of a burgeoning new movement of regional filmmaking. Pennell is, in fact, exploring similar terrain to Burnett—that of the struggling-just-to-make-it-through-the-day underclass man—albeit in his own community and with characters that he doesn't just know, but that he himself is (one needn't do any mental work to make the connection between Loyd and Frank's continual business disappointments and Pennell's own self-sabotaging career as a struggling filmmaker).
At the film's climax, when an off-screen bullet is fired, one fears Pennell has succumbed to the temptation to provide a sensationalistic resolution to a story that didn't call for it. That one bullet could have betrayed everything that preceded it. At the very least, it would have threatened to lessen the impact of the previous 100 or so minutes. But Pennell undersands this—something we should have known by that point—and instead he gives The Whole Shootin' Match the open-ended, bittersweet ending that it deserves. It's a final, emphatic reminder of how honest, refreshing, and special a movie he made.
— Michael Tully