(Courtesy of Janus Films, BAMcinematek is screening a new print of The Fireman's Ball from December 12th-19th. Or you can buy the Criterion Collection DVD at Amazon
.)
It does not get any better than early Milos Forman. Forman's first two features, Black Peter and Loves of a Blonde, aren't just Czech New Wave classics. They are mandatory inclusions in the coming-of-age canon. For his third feature—and first in color—Forman abandoned teenagers for an even more confused age group. Nope, not children. Try the other end of the life-to-death spectrum. The Firemen's Ball documents the inept exploits of a group of elderly firemen who try to throw a retirement party for their chief, but whose arrogance and ignorance unleashes an avalanche of disasters. While it's impossible to deny that these men are about as clueless as authority figures can be, Forman's unquenchable humanism prevents them from becoming mere caricatures. This tricky balance is the essence of Milos Forman's filmmaking, and it is what makes The Firemen's Ball feel as immediate and alive today as it did in 1967.
From the very beginning, it's evident that we're in the hands of some supremely incompetent protagonists. A hilarious pre-credits episode involving the preparation of the ballroom and an argument over a missing raffle prize leads into the main event, in which things get even sloppier. The firemen try to organize a last-minute beauty contest, the band doesn't appear to know how to keep time, and the raffle prizes begin to disappear one-by-one. As these problems converge, an actual house fire breaks out nearby, giving the firemen one last chance to redeem themselves. They don't.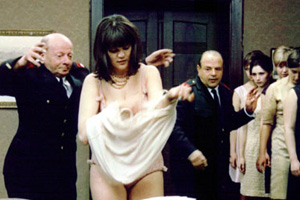 In its defiantly outlandish condemnation of authority, The Firemen's Ball is reminiscent of Stanley Kubrick's Dr. Strangelove, or, more recently, the Coen Brothers' Burn After Reading. Yet Forman's comedy distinguishes itself from those stylish satires in that it is photographed more like a documentary than a fictional movie. His casting of actual citizens from the small town where the film was shot was another masterstroke, for even at their shakiest, the non-professional performances only add a firmer layer of reality to the insanity at hand.
Having said that, it still seems that Forman is working on bluntly metaphorical terms this time around. Whether he's indicting authority figures in general or his own government is up for debate—I would argue that it's both—but from the way that his powers-that-be behave, it's clear that he's got larger targets in mind (those potential targets must have felt similarly, for the film was banned indefinitely in Czechoslovakia after Russia's invasion). Forman has gone on record to say that The Fireman's Ball was based on a real-life incident and has no allegorical meanings, but for anyone with eyeballs and the dullest of brains, it's hard not to read it as such.
At only seventy-three minutes, The Firemen's Ball might seem undercooked and thin. It takes place over the course of one night, and it is comprised of situations that would never even make it into most first drafts. Yet here, Forman and co-writers Ivan Passer and Jaroslav Papousek have built their script out of these anti-moments. In doing so, they have made something more than just a funny little diversion. They have made a fully formed world that fumbles and careens like real life.
— Michael Tully