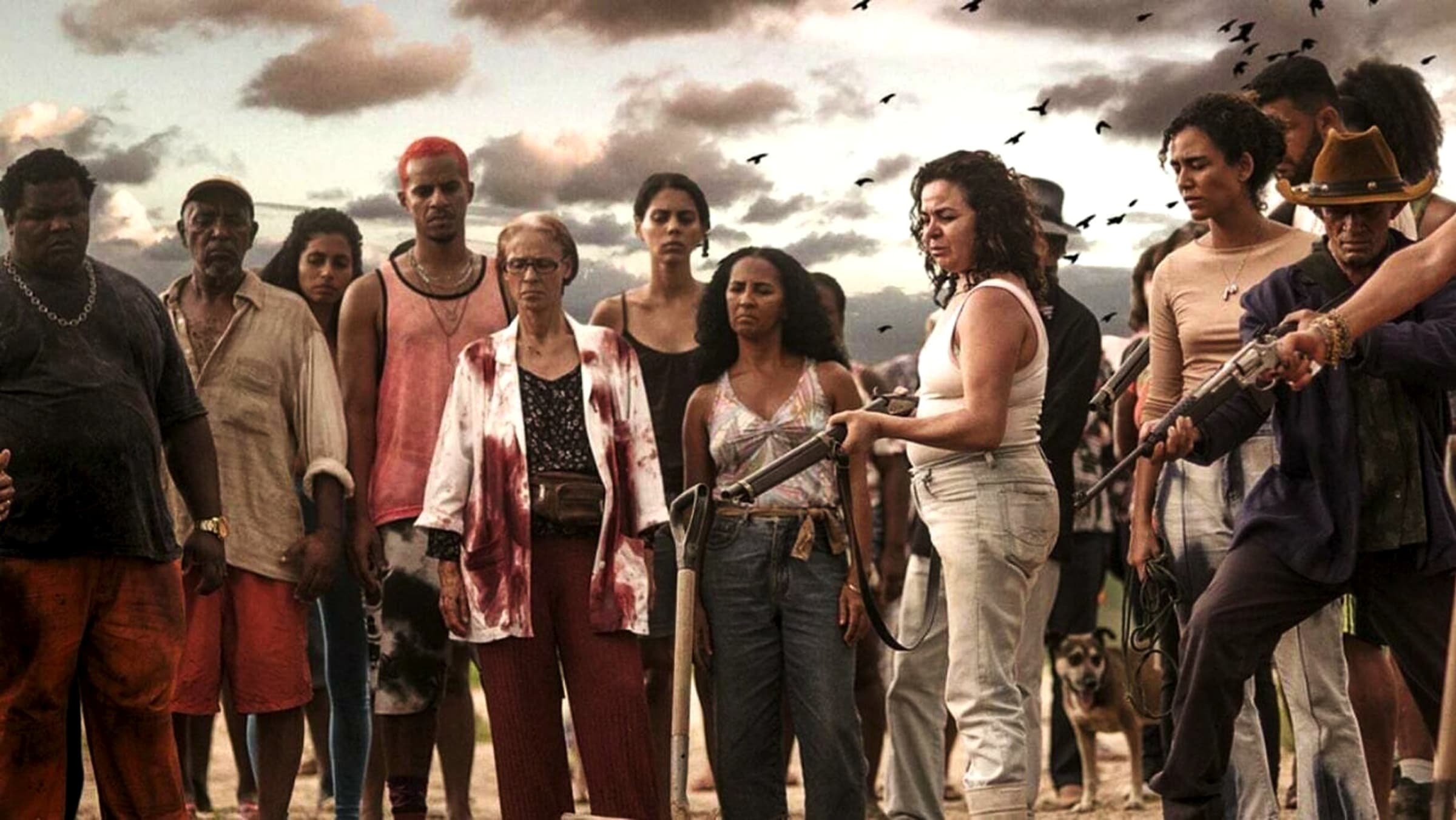 (Juliano Dornelles and Kleber Mendonça Filho's is making the rounds in theaters via Kino Lorber. You can watch now at this link!)
With all the recent hoopla over The Hunt, a film where wealthy liberals apparently chase and kill poorer conservatives (I have not yet seen it), perhaps the new Brazilian movie Bacurau offers the perfect corrective, reminding us that the truly brutal power differentials on this planet are between self-satisfied so-called developed nations and their ostensible opposites. The legacy of Western colonialism still runs deep and destructive, the raping and pillaging of the past an ever-present fact of life in our present day. And so directors Juliano Dornelles and Kleber Mendonça Filho (Aquarius) present their film as a vicious exploration of what an extreme version of the global North's birthright might look like without ethical restraint. It's social drama with a violent action-thriller bite, and wholly engaging.
At first, however, we have no idea where the movie is heading, let alone that it will plunge us into a socio-economic dystopia of near-epic proportions. There are signs, however, as Bacurau opens with a woman, Teresa (Bárbara Colen), making her way along a dusty rural road towards her home – the titular Bacurau – in the Brazilian province of Pernambuco, with what we will discover are medicines in a special case. A title card informs us that it is "a few years from now," and though there are no specific details to indicate anything futuristic, the desolate surroundings and dialogue between Teresa and her driver about a local outlaw hold shades of post-apocalyptic premonition. But when Teresa finally arrives, there is nothing more extraordinary than a dying matriarch and a display of odd village dynamics. The directors create a sense of slight defamiliarization with certain aspects of their mise-en-scène, but otherwise this could be any time, any place. We settle down and follow a gentle narrative with local characters going about their daily lives.
And then, towards the second half, the movie switches gears, courtesy of a UFO. Given that the opening shot of the film offered us a vantage point of Brazil as seen from space, this is less surprising than it might seem, as we've been expecting something unusual to happen. The truth, however, is even stranger than we thought. Soon, the Americans arrive, as murderous a set of interlopers as one could find, armed to the teeth and ready to claim their victims. Extraterrestrials would no doubt be far less sadistic. Welcome to The Most Dangerous Game, with only one side aware of the rules of play. Who will win? The results may surprise you.
The premise mostly works, though there is a sharp disparity in the acting: all the Brazilians deliver marvelous, naturalistic performances while the foreigners bray and prance in mannered ways. As a construct, this behavioral difference makes intellectual sense, but as an onscreen reality it doesn't always come together, though it does serve to make the Americans particularly unappealing, even before the hunt begins. Their leader is actually German, played by Udo Kier (Night of the Templar), who brings his usual over-the-top style to the part. On the Brazilian side, he is best matched by the great Sonia Braga (Wonder), who shows how one can be odd without being off-putting. Despite the clashing styles of the two halves of the film, however, Bacurau nevertheless succeeds in offering a highly stylized and unusual take on global inequality that is compelling throughout.
– Christopher Llewellyn Reed (@ChrisReedFilm)
Like what you see here on Hammer to Nail? Why not pay just $1.00 per month via Patreon to help keep us going?