(Goshogaoka screens on Friday, April 17th at 7:45pm as part of Migrating Forms at Anthology Film Archives. Go here for details.)
The reaction to Sharon Lockhart's Lunch Break at this year's Sundance Film Festival was quite telling. Some of the more delicate responses I overheard were: "It's not a movie." "What was that?" "Nothing happens." On the extreme opposite end of the spectrum, I found it to be a riveting and provocative piece of pure cinema and one of the festival's true revelations. Mike S. Ryan went a long way to expressing what makes Lunch Break such an exhilarating thrill on this very site. Now, thanks to the newly christened Migrating Forms (formerly known as the New York Underground Film Festival), viewers have a chance to appreciate yet another, earlier Lockhart work in a theatrical venue.
At 63 minutes, Goshogaoka (1998) consists of six ten-minute takes in which a junior high girls' basketball team in Japan practices without ever playing to a backboard and a hoop. Initial routines of jogging and stretching are followed by defensive, ball handling, and passing drills, culminating in a partner-to-partner cool-down session. Lockhart sets her camera in one position and keeps it there for the film's duration. In the background, a red curtained stage adds a subtle hint of the theatricality to the dynamic choreography that is transpiring in front of our hypnotized eyes. The rhythmic screeching and thumping of sneakers, as well as the players' melodic chanting, further enhance the sneaking suspicion that we aren't watching a basketball practice at all but are instead experiencing a modern ballet.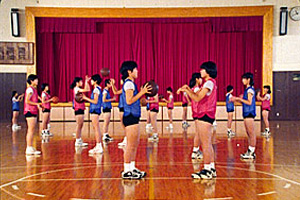 In a way, we are. Lockhart worked with Stephen Galloway, the ballet director of the Frankfurt Opera in the mid-1990s, to choreograph the film's action. But the fact remains that many of the drills themselves are legitimate basketball exercises. They were merely staged to fit symmetrically within Lockhart's square, static frame. I should know. While I spent a few years working in a lifeless warehouse similar enough to the one in Lunch Break, I spent countless more hours in gyms like the one in Goshogaoka, performing these exact same stretches and drills.
Perhaps that's why both of the Lockhart films I've seen have resonated with me so deeply, but upon further reflection, it's much more complex than that. It's in the way her patient camera expands time and allows each and every viewer to reflect upon his or her own life in an almost therapeutic manner. Of course, one is free to appreciate the film superficially, letting the visual and aural rhythms cast a satisfying spell. But I believe that there is a much richer way to engage with this material, by letting that spell push you further into yourself, making you contemplate your own past, present, and future, connecting the dots as directly or indirectly as you deem appropriate.
For many, Lockhart is too hands-off and removed with her filmmaking. I disagree completely. On the contrary, I find this to be what makes her work so wholly engaging. Not many individuals are able to manipulate time in such a deceptively simplistic manner—by not seeming to manipulate time at all, in fact. In Goshogaoka, Lockhart sets her camera in one position. Holding it there for just over one hour in only six shots, she hasn't merely documented a middle school girls' basketball practice. She's freed me to contemplate my own personal memory and enabled me to see faces, visit places, and feel things I haven't felt in over 20 years.
— Michael Tully