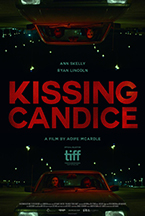 (The 2017 Toronto International Film Festival ran September 7-17. We have a smattering of reviews so stay tuned to HtN…)
With its fractured, elliptical narrative, Kissing Candice uses its form to perfectly illustrate its content. We're inside the mind of a passionate, determined – and epileptic – young woman who occasionally disassociates herself from the bleak surrounding reality. Candice, 17, still in school, the daughter of a local police officer, falls in love with a slightly older guy who is part of a gang of toughs. As luck would have it, she picks the one honorable man among the bunch, who will not take advantage of her offer to have sex. No, he's not gay; she's just too young. There's not much to do in this part of Ireland, it seems, except drink, smoke, snog, shag and give into the pull of violence. Will Candice survive the experience? That is, indeed, the dramatic question.
The movie begins with a vivid sequence that opens with Candice and a half-naked Jacob (her crush) sitting in the front of the car. She's all vibrating need, while he seems half-asleep, drunk or drugged, or some combination of all three. But then Jacob gets out of the car and proceeds to walk the streets in a somnambulant haze, unseen, as other cars burn and gangs roam, and we realize that this is a vision of a wayward hell, a harbinger of things to come. We'll return to that car at the end of the film, though by then it is no longer a dream, and the world will quite literally be turned upside down.
Candice is played by Ann Skelly (Rachel Reid on Irish TV3's Red Rock), who brings a strong presence to the part. In her schoolgirl uniform, she first comes across as desperately fragile, especially after we witness a seizure, but soon we realize there is strength within. Given the brutal circumstances of her small town – where opportunities for much of anything interesting seem long ago to have vanished – and the rough way her father treats her, it's a wonder she has any will for pleasure at all. Ryan Lincoln (Class A), as Jacob – the only person of color in his gang – is simultaneously sturdy and vulnerable, and we can easily grasp what she sees in him, particularly after he saves her from a potential gang rape. They're both outsiders in a land of outcasts, which makes them a target for those with nothing better to do (which is everyone).
Writer/director Aoife McArdle, whose first feature this is, paints a stark picture of Ireland, at least of this seaside town where the action takes place. Shiftless youth terrorize the locals, and the police can't solve the last missing-persons crime. Candice, however, offers the hope that dreams, even simple ones, can remain alive amidst the desolation. At times a little too oblique for its own good, Kissing Candice is nevertheless a forceful cinematic debut, beautifully photographed and edited, stirring in its savage climax. If I were Irish, I might get tired of these discouraging portraits of my homeland, but for the rest of us, Erin "go blah" has never looked so good.