28th Annual aGLIFF: Wrap-Up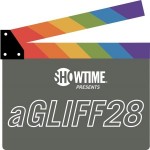 Autumn in Austin, the most fabulous time of the year. September marks not only a break from the relentless heat of the Central Texas summer but also the start of a top notch film festival season. It seems only fitting that the oldest film festival in Austin, the Austin Gay and Lesbian International Film Festival (aGLIFF), kicks off the onslaught of films, followed closely by Fantastic Fest and the Austin Film Festival.
Founded in 1987, the Austin Gay and Lesbian International Film Festival, known affectionately by its acronym aGLIFF, is not only the old queen of Austin's numerous film festivals, but it is also the fourth oldest LGBT Film Festival in the United States. If you did your math correctly, you concluded that this year marked aGLIFF's 28th anniversary. Boy howdy, aGLIFF has aged remarkably well. I would even go as far as saying this year's program is their best yet. So, mucho kudos to aGLIFF's Program Director (and fellow HTN contributor) Jim Brunzell for such an impressive slate of films! It is worth noting that aGLIFF is supported by a loyal subset of the LGBT community in Austin, but if they continue with this caliber of programming there is hope that aGLIFF will evolve into the destination festival that it deserves to be. Let's not forget (well, unless you partook in too many free cocktails) that the aGLIFF parties are a ton of fun too, and there are few better festival venues anywhere than the Alamo Drafthouse South Lamar.
The opening night film, Andrew Nackman's Fourth Man Out, is a buddy movie that is shaken and stirred with a gay twist. You have probably noticed that most Hollywood buddy movies feature a sub-textual element of homoeroticism, and Fourth Man Out brings its gayness out to the forefront of the narrative, going precisely where mainstream buddy movies only have the balls to joke about. Nackman uses standard buddy movie tropes to normalize (or mainstream) the content, but skillfully avoids dumbing it down. Instead, the film thoughtfully comments on the impact that coming out has on both the LGBT individual as well as their friends and family.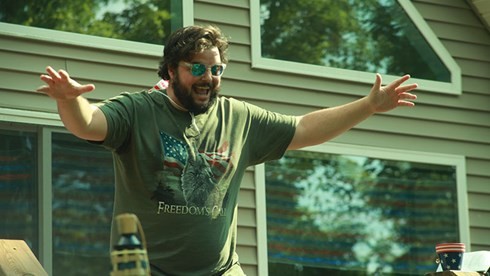 François Ozon's cunning and crafty The New Girlfriend was featured as aGLIFF's centerpiece film. Adapted quite loosely from Ruth Rendell's short story, the most significant departure from the source material is Ozon's referential interjection of a narrative trope that features a character named Laura who continues to intimately permeate the narrative post-mortem (fans of Otto Preminger and David Lynch will get the reference). Ozon adopts a beguiling blend of Hitchcockian formalism and Sirkian melodrama dosed with volumes of strange, uncomfortable humor. Most interesting is the nonchalant means by which Ozon grants his characters the freedom to dodge traditional definitions of identity in the midst of the blurring of gender and the shifting scale of sexuality. By carefully disconnecting appearance (specifically dress) from sexual orientation, The New Girlfriend reconfigures the rules of attraction and desire. Ozon has essentially shaken the existential Etch A Sketch clean to a state of tabula rasa, striving to queer sexual identity to the point of ambiguity.
Like most LGBT film festivals, the programming of aGLIFF partially focuses on the struggles and successes of LGBT populations around the world. One of the biggest successes in the United States came just a few months ago with the legalization of same-sex marriage, so it seems only fitting that aGLIFF would showcase Jeff Kaufam's documentary The State of Marriage as its closing night film. Decades before the United States Supreme Court's June 26th decision on Obergefell, Beth Robinson, Susan Murray and Mary Bonauto were laying the groundwork for marriage equality in Vermont. In 1997 the three women filed a lawsuit in Vermont on behalf of three couples: Stacy Jolles and Nina Beck, Stan Baker and Peter Harrigan, and Holly Puterbaugh and Lois Farnham. The State of Marriage is told via modern day interviews with all of the prime subjects, inter-splicing archival footage to provide a solid context of the time period and environment.
More so than most years, aGLIFF 2015 featured quite a few critical standouts from the major film festival circuit. Hyper-stylish provocateur, Peter Greenaway's Eisenstein in Guanajuato (premiered at Berlinale 2015) presumably takes some artistic liberties in imagining the distractions that Sergei Eisenstein might have encountered while tasked with shooting a feature film in Mexico. Pat Mills' Guidance (premiered at TIFF 2014) has been generating a lot of great buzz this past year for being an offbeat redemption comedy in which its flawed protagonist gets a second chance in life. Josh Kim's How to Win at Checkers (Every Time) (premiered at Berlinale 2015) is an unassuming portrait of LGBT characters against the backdrop of class, culture and politics in Thailand from an outsider's perspective (Kim is a Native Texan). One of my personal favorites of aGLIFF was Alanté Kavaïté's lusciously lensed The Summer of Sangaile (premiered at Sundance 2015 where it won the World Cinema Directing Award) which captures youthful desire in all of its idyllic glory. The one "must see" film that I was hopelessly unable to catch at aGLIFF was Sebastian Silva's Nasty Baby (premiered at Sundance 2015; won the Teddy Award for Best Feature at the Berlinale 2015).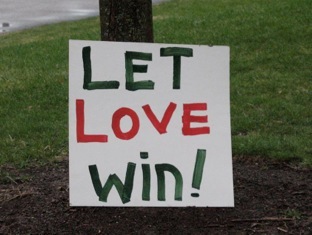 While on the subject of major festival films, it is worth noting that for the second year in a row, aGLIFF featured a top secret screening. We were sworn to take an oath not to divulge the film's title, so I will just say that it was a film that I saw earlier this year at a major film festival and it has remained the most memorable film I have seen in 2015. When aGLIFF released their 2015 film slate, I was incredibly disappointed that this particular film was nowhere to be found. So, upon the announcement of the film's title, I was giddy with excitement, not because the film is an enjoyable experience, but because I was going to see the uniquely discomforting film with a practically sold-out audience at aGLIFF. The collective air of unease permeating the audience while watching this particular film is something to behold. I love when films possess the power to be as affecting as this one.
I ended up seeing almost every feature-length film that screened at aGLIFF 2015, so don't worry, I didn't just stick with the critically acclaimed selections. Of the rest of the pack, a few really stood out, including a few from the Narrative Films in Competition…
For some reason, I went into Jason & Shirley thinking that it was actual outtakes from Shirley Clarke's Portrait of Jason (1967), rather than an experimental fictionalization of the 12-hour film shoot. Let's just say that I was a wee bit surprised (in a good way) by the footage, until I realized that it was a work of fiction.
William Sullivan's That's Not Us fits rather nicely into the ever-burgeoning neorealist, micro-budget, indie film movement. The improvised performances benefit greatly from the natural intensity of the oft-used narrative trope in which a group of people in a house together, forming an inescapable pressure cooker of emotions.
The Narrative Competition winner, Florian Gottschick's Bright Night, was definitely the most unforgettable of the bunch. There have been countless films about a protagonist having to face their past, but Gottschick takes a fairly novel and psychologically profound approach to the subject. The final act might be a bit confusing, but its creepiness is both perplexing and alluring; it is certainly sure to conjure up curiosity about its bold psychological musings.
As for the Documentary Films in Competition, my favorite also turned out to be the winner. Hillevi Loven's Deep Run follows Cole, a transgender young man living in rural North Carolina. Cole wants nothing more than to be accepted by his mother, community and church for what he is; but, unfortunately, no amount of love, loyalty, kindness and devoutness can make his surrounding environment any less hostile toward him. Deep Run is a reminder that even though the American LGBT community has made significant strides towards equality in 2015, there is still a long way to go, but people like Cole are here to give us hope that humans can continue to make progress.
– Don Simpson (@thatdonsimpson)