RELEASING "RICE" – Reflections on the In-Progress Self Distribution of White on Rice, Part One
(White on Rice runs from March 12th-18th exclusively at BIG Cinemas Manhattan (formerly the Imaginasian; 259 E. 59th St.) alongside Children of Invention. It also opens in Atlanta, Georgia at the Cinefest Theater from March 15th-21st. For more info, visit the film's official website. Also, be sure to read Tully's review of White on Rice and Nelson Kim's conversation with Dave Boyle.)
RELEASING "RICE" – REFLECTIONS ON THE IN-PROGRESS SELF DISTRIBUTION OF WHITE ON RICE, PART ONE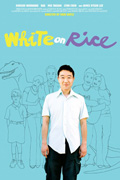 Much has been written in the past few years about the changing landscape of indie film distribution. While much has indeed changed, those of us who are only on our first or second movie have the luxury of growing up in a post-apocalyptic landscape; we don't have to "get used to" the new world, it's the only thing we know!
I completed my second film White on Rice in early 2009. During post-production, I evaluated my options and realized that if I wanted my film to be seen in theaters, I'd have to take matters into my own hands. I'd been around the block once and knew that only a small handful of films win the lottery every year. My film—a comedy that's half in Japanese—would likely not be one of them, especially with the economy in tatters.
With those challenges in mind, I started in on a distribution plan that began on the festival circuit, and continues to this day. White on Rice will open in New York City paired with my friend Tze Chun's wonderful film Children of Invention on March 12th, 2010. This comes after playing theatrically in 10 cities through Variance Films, and doing semi-theatrical screenings in an additional 15 markets, some of which were provided by Range Life Entertainment. We are also selling DVDs online at www.whiteonricethemovie.com.
While I'm still very much a distribution Luddite, I'd like to share a few random thoughts based on my experience. I certainly don't have any concrete answers, but I hope that my experiences with White on Rice come in handy for other filmmakers navigating the current distribution landscape.
***I'm going to try and stay away from categories that are well covered elsewhere by distribution professionals such as Peter Broderick and Jon Reiss. Their invaluable writings have been a huge help to me, and are readily available elsewhere. These are just a few reflections based on my brief experience in theatrical distribution so far.***
SELF-DISTRIBUTION: A MISNOMER?
In May of 2009, during the Los Angeles Asian Pacific Film Festival, I happened to send a screener to Dylan Marchetti of the Brooklyn based distribution company Variance Films. Dylan had previously overseen the successful release of Journey from the Fall during his tenure at Imaginasian Pictures, and had most recently been at ThinkFilm before starting his own company.
At the same time, I met Nguyen "Wyn" Tran—who was the sales agent for Journey, and thus had a great working relationship with Dylan.
Fortunately, both of them loved the movie and decided to come onboard. Nguyen became the producer's rep for the film (although his contribution to the release went well beyond a the traditional sales role) and Dylan become the theatrical distributor and booker.
So what does that mean?
Basically, for a flat fee, Dylan got the movie into theaters. He helped Nguyen and me to design a marketing campaign for the film. We cut the trailer together, tweaked the poster design, and identified the core audience groups we would target. His primary responsibility, however, was to get the theatrical bookings we needed and collect our box office at the end of each run. I guess in the strictest terms, this qualifies as a "Service Deal," though it was quite different from the 6 to 7 figure arrangements usually referred to as such. Officially, we counted it as a co-release between Variance Films and my own Tiger Industry Films label.
In Nguyen's capacity as a producer's rep, he worked to sell the ancillary rights to the film, but in the theatrical release he took on a marketing role alongside Dylan. He traveled with me from place to place doing on-the-ground grassroots work, while Dylan oversaw exhibitor relations from his headquarters in New York.
Within four months of our "team-up," my film was in theaters—a truly miraculous timeline. Without Dylan's distribution pipeline, I would have struggled for months on my own to get that first booking, long after festival-goers had already forgotten about the film. The relatively modest cost of bringing in some seasoned professionals was well worth it.
"There's a method to the madness, so to speak, and filmmakers are almost always better off doing promotional and press work, not the nuts and bolts things," commented Dylan. "I look at it like building a house- you can buy one that already exists, or you can build your own. But when you build your own, it's fine to design it, it's fine to lay the foundation, but you're probably better off calling a plumber and electrician to do that side of things."
"GRASSROOTS" or TRADITIONAL?
Nguyen and I had many long discussions about creating an "awareness" of the film, and how we could accomplish that without much financial backing. We tried a mix of grassroots tactics (with a heavy emphasis on the internet) and some limited traditional media buys.
During the release, we polled the audience about how they decided to see White on Rice. By far and away, the majority heard about it over the Internet. Alice Zou and Clay Dollarhyde of mPRm helped us with a web-based outreach in order to get clips and trailers from the film out into the world. Sites such as Apple Trailers and Fandango, plus blogs like Angry Asian Man were often cited as the deciding factor in our audience polls. On Facebook, Nguyen kept an active dialogue going with our fans, which also proved to be a great way to keep people excited.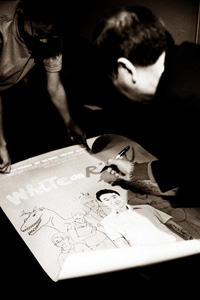 By contrast, our newspaper ads (which we placed when required) never seemed to be a deciding factor at all. We may as well have flushed that money down the toilet. Dylan outlined Variance's basic philosophy toward newspaper ads: "If your film plays to an older crowd, then it's good to do something in the dailies. But the price doesn't come close… to the results that they generate, and the rates seem to be staying the same as circulation decreases."
We set aside a small amount of money for TV. Leveraging some of Variance's longstanding relationships, we were able to utilize some discounts and loopholes to place shot TV spots leading up to the release. Unfortunately, too many of them ended up in bad slots on Animal Planet.
Undeterred, we tried the TV experiment once again in Hawaii, this time running a smaller number of ads on the Japanese Language TV station highlighting the appearance of Japanese Academy Award winner Nae Yuki in the film. While the cost-per-ad was higher, I believe the targeted approach contributed to our successful Hawaii run.
I should point out that our entire budget for TV ads was less than $3,000. TV ads are cheaper than you might think, and can be negotiable with the right connections. Still, as I learned, it's difficult to target them effectively—unless you have a specific niche for your film. Luckily, we did.
"Person-to-Person" marketing seemed to work very well—and was probably the least expensive method of all. For example, whenever we visited a college Japanese class to stump for the film, I always saw a large percentage of the students show up at the theater—especially if their teacher offered extra credit! College classes are a captive audience, and we found that teachers were usually happy to have us speak for a few minutes and show the trailer.
Hiroshi Watanabe, the star of the film, proved to be an invaluable asset in person-to-person marketing. He basically did a stand-up comedy routine whenever we visited a class or community organization. I've never seen an actor take ownership of their movie quite like he did—his infectious enthusiasm helped drive a great deal of our traffic. He also participated in a series of web videos, and maintained a constant interaction with fans on Facebook.
So which wins out? The traditional ad buys or the grassroots approach? I'd say, with the exception of newspaper ads, that both are helpful. One fallacy, however, is thinking that "grassroots" somehow equals "free." The cost of travel to make college visits and do community organizing definitely adds up—and the web-based approach can only go so far without a modicum of human contact.
THE RISE OF BANANA MAN
Soon after the team-up, Nguyen and I were commiserating about our lack of a real P&A budget. I remarked that we'd probably be better off just dressing up in banana suits and holding up signs by the side of the road. (A banana-clad character figures into the plot of White on Rice).
"That's it!" Nguyen said, "That's the hook!"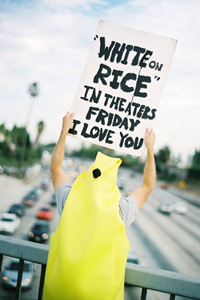 With that, Nguyen became the first (and preeminent) "Banana Man" in the lowest-fi portion of our campaign. Donning a ridiculous fruit suit, he visited college campuses, shopping malls, farmers markets, street fairs, rest homes and wherever else he could to stump for the film. "Banana Man" took on a life of his own.
"It's a minor detail in the movie but ended up being such a great symbol for us," recalls producer Duane Andersen, who also occasionally donned the suit or accompanied bananified supporting actor Dave Christenson. "Wherever we went with The Banana Man we got attention. How could you not? We went into busy bars, and I never did so well. I could walk up to any random group, sit down and say, I'm with the banana, and immediately I was in."
Even now, I run into people who say "Oh yeah, I met a guy in a banana suit talking about your movie once." Another crew member from the film even called me after seeing Nguyen on the street and said "I just saw a guy in a banana suit advertising something, we should do that for the movie!"
Hiroshi got on board with Nguyen's guerilla marketing tactics. He personally street teamed (sans banana suit) and talked to hundreds of people—his favorite hook being to hand them a Rice postcard with his face on it and say: "See that guy? That's me!"
Hiroshi himself is rather modest about his sizable contribution to the campaign, and simply said "I really respect Mr. Tran for being the Banana Man. He is courageous, smart and can think very fast." Asked how he enjoyed working on a low budget release, he remarked "I once heard a famous actor say that promotion of films is much more difficult than acting. Now I understand. At the same time, I really enjoyed it because I could talk to many people."
While I'm not "shy" per se, I'm definitely not an "embrace the crowd" party guy. Fortunately, I had some bigmouths like Nguyen, Hiroshi and the gang on my side to fill that void. It's yet more evidence that teaming up with people who compliment your strengths and weaknesses is an important part of a theatrical release—just like the actual filmmaking process.
How successful was Banana Man? In the end, it's hard to quantify. While it was a great way to rile up a crowd, I personally felt that the college visits and media appearances probably resulted in more tickets sold than "Banana Man" type tactics. However, when you've got nothing else going on, why not?
There were certainly many people, previously aware of White on Rice, for whom Banana Man sealed the deal. Others (and I'm not kidding here) showed up simply because they felt Banana Man had become their friend.
And, yes, I'm positive that some people wanted to murder Banana Man. But at least they know about the movie.
EXPERIMENTING WITH FALSE ADVERTISING
Bruce Campbell (The Evil Dead, Army of Darkness) contributes a little voice cameo in my film (providing the bad dubbing for a mock samurai scene that opens the picture), and we decided to court the geek audience (which includes me, by the way) by making fake trailers for Ambush at Blood Trail Gate and hopefully hooking people's interest in the REAL movie.
Campbell and his agent were great sports, even going as far as providing us with a quote for the press release: "Material like Ambush at Blood Trail Gate doesn't come across my desk very often so I knew I had to pounce on it. I told my agent, 'lose this gig and you're out of here.' I am really proud of the finished product and look forward to a wide release."
What a guy. We released the trailer, sent out the press release, and held our breath.
The news spread pretty fast. In multiple discussion forums, people talked earnestly about how much they looked forward to seeing Bruce's first foray into the badly dubbed martial arts genre. I hoped that eventually the bread-trail would lead to White on Rice.
Surely enough, it did. However, when people finally uncovered the hoax, and that the REAL movie was a "cute" romantic comedy, their rage was palpable. They seemed genuinely angry that the samurai movie they'd been promised was nothing but a falsity. Rather than leading people to anticipate my film, the marketing move just inspired them to lament a movie that didn't even exist.
Todd Brown, who helped us spread the word about Ambush through Twitchfilm.net, believes that such a stunt could successfully work, "but it's pretty tricky. I don't think it's so much a genre issue as it is how well you're able to manage that transition. Hype people too much on the fake product and the disappointment that it doesn't exist can lead to the viewing the real thing as a disappointment – no matter how good it is – simply because it isn't what they've been led to believe they really want."
Lesson learned. On the other hand, now I know that a samurai film dubbed by Bruce Campbell would probably be a pretty big seller. Hmmmm….
(Read Part Two right here.)
— Dave Boyle