VOD REPORT
February 2011
KEY:
— A three-star marking (***) equals a very high recommendation.
— A two-star marking (**) equals a high recommendation.
— A one-star marking (*) equals a recommendation.
— A no-star marking is reserved for those titles that are worth mentioning in some way, shape, or form.
— [Have Not Seen Yet…] is self-explanatory.
VIDEO ON DEMAND — FEBRUARY 2011
As we have only seen one of the many films being released this month by FilmBuff, we only have the trailers upon which to pass personal judgment. For our money, the following films appear to be the most intriguing of the bunch (you should probably watch all of the trailers and decide for yourselves, which you can do right here.)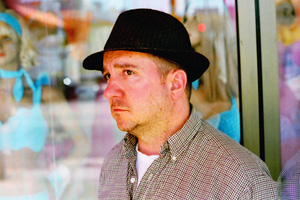 ** Strange Powers: Stephin Merritt and The Magnetic Fields — Strange Powers is at its most successful when showing the band as a work-in-progress: refined live performances, intimate and quirky on-stage banter (including a precious clip of Stephin exchanging shirts with an audience member), and especially the living room rehearsals that reveal the deceptive simplicity of Merritt's pop songwriting. Read the rest of Cullen Gallagher's review here. (Available on iTunes, Amazon, Hulu starting February 8)
Hatchet II [Have Not Seen Yet] (Available on iTunes starting February 1)
The Ride [Have Not Seen Yet] (Available on iTunes starting February 4)
2012: Time For Change [Have Not Seen Yet] (Available on iTunes starting February 8)
One Too Many Mornings [Have Not Seen Yet] (Available on Hulu starting January 20)
The following titles are available on Movies on Demand on Comcast, Time Warner, Cox, Bresnan, RCN, and Brighthouse:
New: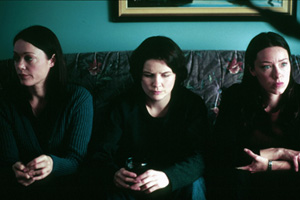 ** Marion Bridge — With family secrets constantly lurking in a small Nova Scotia town, there's nowhere to hide. Marion Bridge explores the psychological issues just below the surface of three sisters who have come together to help care for their dying mother. Agnes, the youngest, has filled her life with bouts of drug and alcohol abuse and sporadically been in and out of the family's life (not unlike Rachel Getting Married's Kym). However this time, Agnes is convincingly sober and is ready to face her secrets even if her sisters resist. The acting in Marion Bridge shines as the subtle, slow-moving plot gives you plenty of time to connect to each character. Also keep an eye out for a 15-year-old Ellen Page, who makes a strong film debut. (Lauren Kinsler)
Lovers in a Dangerous Time [Have Not Seen Yet But Wanna]
A Call Girl [Have Not Seen Yet But Wanna]
Bad Day To Go Fishing [Have Not Seen Yet But Wanna]
Still Showing:
*** Samson & Delilah — From the opening strains of Charley Pride's "Sunshiny Day," set to a slow-motion shot of an Aboriginal teenager waking up in bed only to immediately begin huffing gas out of a can, Samson & Delilah lets you know that it's going to be different. It is. Written, directed, and photographed by Warwick Thornton on 35mm, this exhilarating feature-length debut isn't just an assured, touching, and original tale of young love in the Central Australian desert. It's a very precious reminder of the transporting power of cinema. Samson & Delilah will make you fall in love with movies all over again. You can also buy it on DVD.
How I Ended This Summer [Have Not Seen Yet But Wanna]
Fraulein [Have Not Seen Yet But Wanna]
Republic of Love [Have Not Seen Yet But Wanna]
Be With Me [Have Not Seen Yet But Wanna]
The following titles are available on Movies on Demand on Verizon Fios & Charter Cable systems nationwide:
New: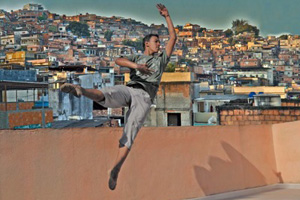 *** Only When I Dance — An inspiriting documentary about two exceptional teenagers. Coming from favelas in Brazil, Isabela and Irlan have the same dream: to make it as a professional ballet dancer. With an eccentric fairy godmother/dance teacher leading the way, they take a journey through highs and lows in pursuit of an international ballet career. The most interesting part of this film is the intimate portrayals of the dancers' parents. Isabela's family, although steeped in poverty, does whatever it takes to send her to competitions. Irlan's father, although skeptical of his dancing interests at first, is his biggest supporter, even getting a tattoo in honor of his son's talent. Only When I Dance tells a beautiful story about family and perseverance and if that doesn't do it for you, the beautiful dancing will. (LK)
Still Showing:
*** Helena From The Wedding — Helena From The Wedding, the debut feature from Brooklyn director Joseph Infantolino, isn't exactly a ringing endorsement for marriage. This dark comedy about spousal problems unfolds largely in a single, claustrophobic house like a snowbound Eyes Wide Shut, but instead of freaky masks and orgies there are holiday sweaters and group backgammon games. The drinking and drugs are still there, and so is the spousal insecurity, which begins as lingering paranoia and quickly moves from passive to very active aggression. And did I forget to mention the movie is also funny as hell? Read Cullen Gallagher's full review here.
*** Come Undone — Anna and Alessio 's relationship in Come Undone is adorably calm and content. She is a top employee at an insurance company and he's a softhearted handy man who would do anything for her. After seeing Anna's sister give birth, they agree to try and have a baby themselves. Soon after, Anna meets Domenico, a waiter as well as a father and husband. Their strong sexual connection results in an affair that is passionate but seemingly impulsive. The result is raw and jolting for the audience as well as the adulterers. Director Silvio Soldini does an incredible job of showing the real effects of an affair on the unsuspecting families. There is nothing glamorous about this film or anything that happens in it and the rawness is incredibly powerful. Rather than glorify their affair, Soldini shows us the often-unseen parts: the hard work of balancing two schedules, keeping up with lies, the anger developing between the lovers. Come Undone is difficult to watch as we see the characters continue down dark paths, but that realness is what makes Silvio's film great. (LK)
A Call Girl [Have Not Seen Yet But Wanna]
*** Samson & Delilah (see above)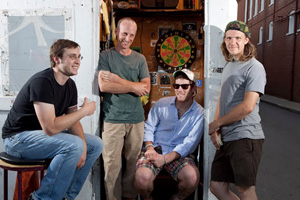 *** The Parking Lot Movie — A personal favorite that premiered at South By Southwest last year; tucked away behind the main street in Charlottesville, Virginia and the University of Virginia is a simple parking lot staffed by a revolving crew of philosophy majors, law students and over-educated poets who find a zen-like perfect in dealing with people. Meghan Eckman goes over the years and various attendants who called the parking lot hidden off Main Street C-Ville home, from custom wooden arms to impromptu music videos. Perhaps perfect for VOD, purely because the fluid nature of this doc transcends flighty descriptions about overcoming adversity or learning about one's self—even when this showed at Rooftop Films, it required a gimmick to initially suck in an audience. And believe me, once you get into the history of what is basically a parking lot behind one of the (now shuttered) coolest record stores ever, you'll want nothing more than to wander around the campus and discuss how it took almost three years to open a Bodo's Bagels there. (John Lichman)
*** The Chosen One — Let me just say: holy shit. What by all rights one assumes to be a slapstick bit of retarded comedy is a rather unsubtle deconstruction of how sad and pathetic a life can be sans anything outside of tequila and Heineken. Rob Schneider tries to kill himself twice in ten minutes, discovers he's a chosen savior based on a South American tribe loosely associated with the Mayans and then deals with his closeted practicing-Buddhist brother (Steve Buscemi) and shell-shocked mother (Holland Taylor). But the kicker here is Schneider is the titular chosen one who, after spewing 151-proof beer onto a fire and trying to hang himself, discovers he's the Chosen One. And only he can avert world destruction by fixing himself, his family and introducing a trio of South American shamen to the wonders of cable exercise shows and porn. The spiral towards finale is something of a bi-coastal culmination that makes Pale Male become globally relevant. Also, there's a term kicked around on HTN called "avant-retarde" that our E-I-C Michael Tully has expanded into a genre of itself. I try not to ever easily throw titles alongside that, but The Chosen One requires at least two screenings to really take all of this in. Think of it as Schneider's Punch-Drunk Love but with less joy and a lot more bitter soul-searching. (JL)
*** The Bird Can't Fly — Barbara Hershey can't catch a break when it comes to playing doomed matriarchs. Here, a successful chef who left behind her past in Fairlands—"City of Diamonds" not-so-subtly striped away on a sign due to wind and sand storms. Returning to her home village after hearing her daughter died and discovering her mixed-grandson River (Yusuf Davids), Hershey trudges from scene to scene across the sand as the locals deal with an outsider looming in. On top of this, her daughter's husband Scoop (Tony Kgoroge) hasn't exactly been faithful. Tie this into sub-plots to capture ostriches, the dementia of an old woman whose cries of "Be good" float over the wind and the rather awesome visual of decay that follows Scoop across the village and The Bird Can't Fly is necessary viewing; especially if you're on a Hershey kick after the whole Black Swan awards hoo-hah.
** The Assistants — Making it in Hollywood is half the battle. Back when I worked on a TV show, nearly every other connection my co-workers had in Los Angeles were based on when they were assistants at talent agencies, PR firms or friends who happened to work with Ashton Kutcher. Which is why The Assistants is spot-on when it comes to the tone: who better to deserve a chance than those younger, smarter, prettier and happier than the old dogs in command? A caper film disguised through dog-walking and sexual favors, a group of friends determined to make their cinematic dreams come true are stuck in their day jobs running the lives of thankless celebrity cameos (Jane Seymour as the rich and clueless trophy wife, Joe Mantegna as the power producer who has countless casting couch sessions). Despite some heavy handed fourth wall monologues from "producer" Jack (Chris Conner), we get quality shows from an implied Bukowski/Norman Mailer writer director played, natch, by Stacy Keach. Best of all, The Assistants mixes a fair amount of style with the realistic substance that just because you know someone's fuck buddy/assistant, it doesn't mean shit once the meeting starts. [Disclosure: my old old office/employer's office was right next to Ashton Kutcher's production office. Walking by an alley one night I saw two homeless dudes getting their heroin on. What's this have to do with a review of a film about Hollywood assistants? No clue, but doesn't that sound like it should be interesting? Like… a certain flick…]
Repo Chick [Have Not Seen Yet]
New:
Peep World [Have Not Seen Yet But Wanna] (Available starting February 9)
The Other Woman [Have Not Seen Yet But Wanna] (Available starting February 4)
Still Showing:
*** White Material — Claire Denis proves once again that if she isn't the greatest living filmmaker, she's in the starting lineup. Unlike her debut feature, Chocolat, which was a much tamer reflection on her upbringing in Africa, Denis this time pushes the drama to its haunting limits. Isabelle Huppert stars as a coffee plantation owner whose stubbornness won't allow her to take the advice of the French Army, her husband (Christophe Lambert), or her workers, and flee her land before child soldiers ransack her home and kill her entire family. White Material is an interesting fusion of Denis's elliptical, poetic filmmaking style with a bluntly allegorical thematic approach. It is also, in a career full of startling film after film, one of her very best yet. (Available until February 24)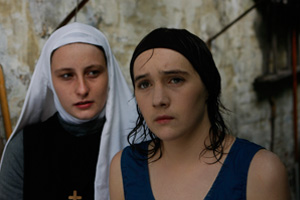 *** Hadewijch — Bruno Dumont's Hadewijch is certain to be one of the most misunderstood films of this or any year, a blistering counter-punch to the prevailing understanding of the influence of Robert Bresson in the cinema and in modern life. Dumont uses the language and tools of Bresson's "spiritual style" in order to subvert spiritual literalism and its logical and extreme conclusion. By taking the tropes and redemptive themes of the master himself, Dumont engages in a battle for the Bressonian legacy, rejecting the easy moral uplift of so much of recent cinema in favor of a finale that brings grace not to the spiritually conflicted warrior, but to a secular bricklayer hovering around the fringes of the narrative. Read Tom Hall's HTN conversation with Dumont and Julie Sokolowski, as well as Hall's full review on his blog The Back Row Manifesto. (Available until March 8)
The Time That Remains [Have Not Seen Yet But Wanna] (Available until April 5)
** The Housemaid (Available until April 26)
* Kaboom (Available until April 26)
New:
We Are What We Are (Available starting February 23)
Dream Home (Available starting February 9)
Tetsuo: The Bullet Man (Available until April 9)
Still Showing: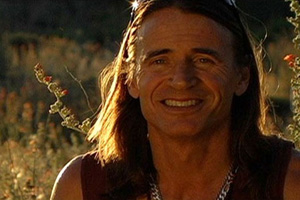 ??? Sex Magic — A star rating doesn't really apply to this documentary so three wide-eyed question marks will have to suffice. Truth be told, I haven't even seen the whole film, because at the time I felt too sleazy to make it all the way through, but almost two years later, it continues to haunt me. This isn't fascinating in the "watching-a-train-wreck" sense of the term. It's fascinating in a "watching-one-train–wreck-into-another-train-in-a-metallic-phallic-display-of-creepily-erotic-glory" kind of way. Watching Baba Dez manipulate women for murky reasons that he tries to justify makes for an uncomfortably hilarious ride (think David Brent as a hippified sex cult leader). And while it's obvious, I'm gonna say it anyway: Willem Defoe is this guy when it comes time to make the biopic! (Available until March 3)
Exorcismus [Have Not Seen Yet But Wanna] (Available until April 5)
New:
Black Death [Have Not Seen Yet] (Available starting February 4)
Still Showing:
Vanishing on 7th Street [Have Not Seen Yet But Wanna] (Available starting January 7)
Night Catches Us [Have Not Seen Yet But Wanna] (Available through Xbox and Amazon)
Client 9: The Rise and Fall of Eliot Spitzer [Have Not Seen Yet But Wanna] (Available On Demand Everywhere)
New: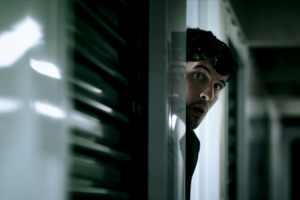 *** Cold Weather — Reuniting with Quiet City's Cris Lankeneau, Aaron Katz and his team (Brendan McFadden, Ben Stambler) return to the Pacific Northwest environs of Katz's debut feature, Dance Party USA, to tell the story of a brother-sister reunion (Lankenau and Trieste Kelly-Dunn) that begins as a subtle character study but unexpectedly morphs into a full-on detective thriller. Working once again with cinematographer Andrew Reed, who maximizes the potential of the Red camera here, Katz uses a muted color palette, a slow-moving camera, and his own sharp editing to create a rising air of tension that boils over into the second half's action-packed sequences. Cold Weather is a deft, original addition to the noir genre and is another impressive creative statement by the uber-talented Katz. (Available starting February 9)
* Heartbeats (Available starting February 23)
Still Showing:
"Direct From The Sundance Film Festival 2011" ***Available until the last week of February!***
As part of the Sundance Institute and Sundance Film Festival's continuing push to make the VOD platform a more accessible and direct way to discover brand new movies for movie lovers across the country, the Sundance Selects Video On Demand channel will simultaneously premiere five Sundance entries in conjunction with their first screenings in Park City. These will run for "approximately 30 days" according to the press release, and will be available "on most major cable systems including Bright House, Comcast, Cablevision, Cox, and Time Warner Cable." The lineup consists of:
Kaboom
Mad Bastards
These Amazing Shadows
Uncle Kent
Septien [Full disclosure: yours truly wrote and directed Septien.]
More Still Showing:
*** Tiny Furniture — Lena Dunham's follow-up to Creative Nonfiction isn't just a major leap forward. It's like a rocket launch to a bigger and brighter planet. For those of you who have been pining away for Whit Stillman's return, Dunham—another Hammer to Nail contributor, thank you very much—is here to scratch that itch in a major way. Aspiring romantic comedy makers, please study this film. Dunham's first brilliant stroke was to work with last year's Silver Nail winner Jody Lee Lipes, who shot this film on the Canon 7D—technically a still camera!—yet gives it a thoroughly cinematic credibility. But removing that vital element from the equation, Dunham delivers a sharply written comedy that uses pop culture references in a way that is never overly hip or gratingly snappy. This is dangerous terrain, to be sure, but Tiny Furniture is a reminder that, if done appropriately, this genre can be artistically invigorating. It is the very real deal. (Available until February 17)
*** And Everything Is Going Fine — What better way to tell brilliant monologist Spalding Gray's life story than to let him tell it himself? Steven Soderbergh wisely grasps this, and proceeds accordingly. Interweaving Gray monologues, interviews, and assorted other video tidbits, And Everything Is Going Fine doesn't just sum up the life of a man who took his own life. It makes him breathe fully again and also shows us that his unfortunate self-inflicted demise might have been in the cards all along. (Available until March 22)
Lastly, be sure not to forget about Cinemax On Demand and HBO On Demand, where many other great movies are yours for the taking on a constantly revolving basis.
***BONUS: Our friends at OnDemandWeekly (be sure to subscribe to their newsletter if you haven't already) have compiled a special "A Special Valentine's Day Movies on Demand Top 14 List"—check-a-check it out.***
One Response to "VOD REPORT"
Aaron and Audrey Says:
February 16th, 2011 at 1:29 am

Until The Light Takes Us (award-winning doc about the violent Norwegian music scene) is also new on VOD with various broadcasters. The extras are also streaming at http://www.blackmetalmovie.com/moviepage.html
Leave a Reply