AUGUST EVENING
Family Unties
Leave a Reply
In my recent review of Chris Smith's The Pool, I commended the new crop of American filmmakers who have chosen to tell stories set in unfamiliar landscapes and cultures. I would like to add Chris Eska to that list. It's easy to see why Eska's debut feature, August Evening, won so many awards during its festival run (culminating with the Cassavetes Award at the 2008 Spirit Awards). With a maturity that belies his years—and a production that belies its budget—Eska has delivered an insightful meditation on the mysterious nature of family bonds by asking a particularly complicated question: how is it that we often connect with others more easily than our own children/parents?
In lesser hands, August Evening could have devolved into television movie-of-the-week territory, but Eska bravely chose to concentrate on the smaller moments that most cinema tends to ignore. This commitment to reality was even more fully realized with the casting of Pedro Castaneda, a non-actor who delivers a performance so achingly genuine that it earned him a Spirit Award nomination for Best Male Lead alongside Don Cheadle, Philip Seymour Hoffman, Tony Leung, and Frank Langella. Yes, there is death, and yes, there are rigidly defined characters—the bitchy sister, the unproductive son, the overly devoted daughter-in-law—but I can't recall ever having watched an American independent film that tackles this complicated issue in such a thoughtful manner.
There are many moments within August Evening that are uncomfortable in their honesty—awkward dinner table exchanges in which personal frustrations, unresolved feelings, and bitter emotions surface in sharp, pointed comments. Unemployed and utterly dependent on his frustrated children, Jaime must take this degradation in silence. To witness this proud man as he's dismissed by his son and humiliated by his daughter is not only heartbreaking; it brings the subject of parent/child responsibility to light and challenges us to confront it in our own lives, something most of us would rather avoid.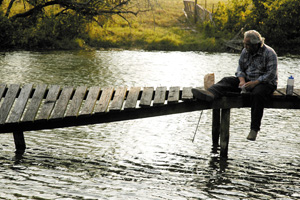 In a storytelling sense, Eska took this concept further. Rather than concentrating on the divide between parents and children, he created the character of Lupe (Veronica Loren) to tell a more original tale about the strong parental bonds that can form between in-laws. Though Lupe was married to Jaime's deceased son—and in that sense is part of the family—their relationship was a short-lived, tenuous one at best. Yet Lupe seems to have found a purpose in caring for Jaime. Perhaps she too has nowhere else to turn, but she has also seen the way Jaime's children treat him and she worries that, without her, he will have no one to care for him. As they journey to various cities in Texas with the hope of finding stability, their bond becomes even stronger. And while the evolution of Lupe's relationship with the well-intentioned Luis (Walter Perez) adds another layer, Eska's exploration of the parent/child dynamic is what makes August Evening richer than your typical multi-character family drama.
Much will be made of Yasu Tanida's golden-glazed cinematography, which will undoubtedly be compared with the work of Terrence Malick, but August Evening has more in common with the quiet sorrow of classic Japanese cinema. For even though the handheld camerawork establishes more kinetic energy than Yasujiro Ozu's patient framing in Tokyo Story, Eska takes his time to establish his characters and tell their stories with a grace that has a kinship with the Japanese master. August Evening is a touching, complex drama that should resonate with viewers of any language or background, and marks Chris Eska as a director to watch.
— Michael Tully
(August Evening opens in New York City today. Visit the film's official website for further screening information and to watch a trailer.)
Leave a Reply