EVERYTHING STRANGE AND NEW
Days Like These
Leave a Reply
(Everything Strange And New world premiered at the 2009 Sundance Film Festival. It was nominated for a 2009 Gotham Award for Best Film Not Playing At A Theater Near You and has also been nominated for a 2010 Spirit Award for Best First Feature. It opens theatrically in New York City for a one-week run at the reRun Gastropub Theater on Friday, February 25, 2011, and is also available on DVD through Indiepix. Visit the film's official website to learn more.)
Are we living the lives we want to be living? Have we succumbed to the tired daily grind of working a blue-collar job in order to sustain a marriage and a family that feels increasingly distant every day? Or is there nobility and joy to be found in this uneventful, yet comforting, routine? The beauty of Frazer Bradshaw's Everything Strange And New is that Bradshaw confronts these complicated, potentially depressing questions without flinching, yet he does so without giving a definitively hopeless verdict. Everything Strange And New might be a tough pill to swallow, but it remains an inspiring experience due to the clever, inventive, and wise filmmaking on display.
To describe Everything Strange And New in broad terms is to perhaps sell it short: A droll comedy/drama about Wayne (Jerry McDaniel), an average guy with a wife, two young kids, and a construction job that enables him to barely pay the bills. His coworker friends have problems of their own. As Wayne continues to repeat his daily cycle as if that cycle itself is some sort of senses-dulling narcotic, trouble eventually rises to the forefront, snapping Wayne back into reality. Or does it?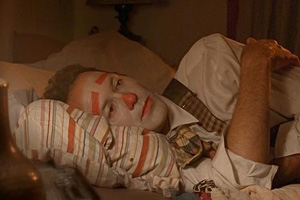 We've seen this movie before, we've read countless books about it, etc. However, in Bradshaw's hands—and as writer, director, cinematographer, and co-editor, this film is most certainly in his hands—this seemingly familiar premise doesn't feel generic or trite. It certainly feels light years wiser and more mature than what we typically see in this particular indie sub-genre (i.e., "the nuclear family is a quirky, dysfunctional mess!"). Everything Strange And New is without question, the work of a mature filmmaker who is grappling with personal issues yet who has embraced a fictional premise to distance himself enough from the content in order to make it become more universally resonant. This is just one of the many reasons that I would strongly suggest that aspiring filmmakers and film students watch this film.
That leads into some technical kudos. Trained as an editor and currently paying the rent as a cinematographer (he lensed the 2011 Sundance Film Festival documentary entry These Amazing Shadows), Bradshaw proves that a well-rounded technical education is indeed a very good thing to have in one's back pocket (again, a vital lesson for young filmmakers who don't think they need to put in time and really learn how movies are constructed and brought to life—answer: Yes, you do). Without pretension, Bradshaw uses the tools at his disposal—beginning with shooting on Super-16mm film—to further enrich his story and cast a narcotic spell. An early shot exemplifies this. As Wayne returns home from work and hears his wife bickering with her children, he stands at the front door, gathering his courage and strength, before leaving the frame to join his family in the kitchen. At this moment, Bradshaw's camera begins to slowly push through the empty room, towards the window. A decision like this has the potential to feel heavy-handed, yet here it feels like the most viscerally creative way to show us this character's trapped internal state. Though Wayne explains his predicament in voice-over throughout the film, that one shot says everything we need to know. This isn't the only striking moment to be found; most notably, Bradshaw delivers a brilliant 360-degree pan that creatively expresses Wayne's grinding routine. It's clear that these choices weren't utilized to be "stylish" or "cool." They speak volumes.
Wayne's dazed state isn't induced by mood stabilizing drugs. It's induced by daily life, the everyday routine that keeps so many people stuck inside their heads, either beating themselves up for not living the lives they want to be living or convincing themselves that they are, in fact, healthy and happy. In both instances, that constant internal hum is enough to turn a person into a zombified shell. While Everything Strange And New might make you feel like a zombified shell yourself, with its assured filmmaking and restrained sense of humor, it will also perk you awake and give you something to think about with regards to your own everyday routine.
— Michael Tully
Leave a Reply