BOTTLE IN THE GAZA SEA, A
Answer In A Bottle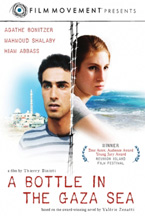 (Distributed by Film Movement, A Bottle in the Gaza Sea is now available on DVD
. It opened theatrically in New York City on January 4, 2013. Visit the film's official website to learn more, or buy the book here
.)
With A Bottle In The Gaza Sea, French Director Thierry Binistri and scriptwriter/novelist Valérie Zenatti have set out on a mission noble but, let's be honest here, flat-out impossible: to make a sweet and tender drama suffused with bipartisan hope that, in a perfect world, might just help to solve the decades-long conflict between Israel and Palestine. Hey, that'd be like so totally cool if that happened! But, um, as we all know, this world ain't perfect. And yet, while A Bottle In The Gaza Sea doesn't break any formal ground and waves a youthful flag of optimism as its only real solution to the problem, the filmmakers' commitment to said youthful optimism nonetheless provides a welcome breath of fresh air. Sometimes it's just nice sit back and watch a well-made humanitarian drama that refuses to add politically charged fuel to an already raging fire.
Tal Levine (Agathe Bonitzer) is a French teenager who has moved to Jerusalem with her mother and father and brother (who is currently performing his requisite service for the Israeli army). When a suicide bombing rocks Tel Aviv, Tal tries to make sense of it by writing a confused letter to an invisible suicide bomber, stuffing it into an empty bottle, and having her brother toss it into the sea near Gaza. When a group of Palestinian guys find it, they blow it off, but Naïm (Mahmoud Shalaby) sneakily writes Tal an email response as "Gazaman." At first, their exchanges are brief and guarded, but gradually, they begin to open up to one another. Naim exposes his love of Tal's native language to her and their e-correspondence switches from English to French (he continues to take French lessons so that he might one day be able to leave Gaza for the first time ever and experience France for himself). But of course, this world ain't perfect, and once friends and family—and in Naïm's case the "authorities"—catch wind of this penpalship, their harmless attempt to make a human connection is stifled.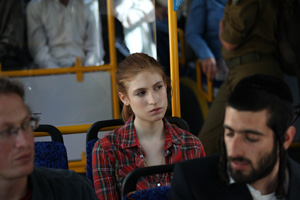 It should be clarified here that the novel upon which this film is based is of the "young adult" variety. So if life has completely erased your ability to recall your own days of youthful optimism, you will likely find this all a bit too idealistic. But again, that is what makes Binistri and Zenatti's efforts here so commendable. They are careful to present both sides of the argument evenly and fairly and instead concentrate on the burgeoning friendship between two innocent human beings, and though A Bottle In The Gaza Sea won't change the minds of the folks who most need it, it does promise to spark useful thought in younger viewers.
When you're used to facing a steadily punishing diet of nonfiction cinema like 5 Broken Cameras and The Law In These Parts and The Gatekeepers and Death in Gaza, a movie like A Bottle In The Gaza Sea, one that wears its pacifist worldview proudly, is quite refreshing to encounter. And who knows. It might take another generation or two (or several), but if filmmakers like Binistri and writers like Zenatti keep tossing good-intentioned bottles like these into the sea, perhaps an answer will eventually wash up onto shore one otherwise typical afternoon.
— Michael Tully
One Response to "BOTTLE IN THE GAZA SEA, A"
HOME VIDEO PICKS – Hammer to Nail Says:
April 16th, 2013 at 10:01 am

[…] humanitarian drama that refuses to add politically charged fuel to an already raging fire. Read my full HTN review. Available on […]
Leave a Reply