HOME VIDEO PICKS
4/16/13
Recommended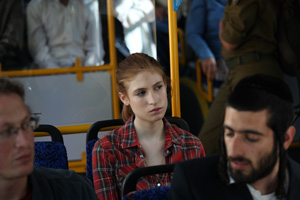 A Bottle in the Gaza Sea (Film Movement) — With A Bottle In The Gaza Sea, French Director Thierry Binistri and scriptwriter/novelist Valérie Zenatti have set out on a mission noble but, let's be honest here, flat-out impossible: to make a sweet and tender drama suffused with bipartisan hope that, in a perfect world, might just help to solve the decades-long conflict between Israel and Palestine. Hey, that'd be like so totally cool if that happened! But, um, as we all know, this world ain't perfect. And yet, while A Bottle In The Gaza Sea doesn't break any formal ground and waves a youthful flag of optimism as its only real solution to the problem, the filmmakers' commitment to said youthful optimism nonetheless provides a welcome breath of fresh air. Sometimes it's just nice sit back and watch a well-made humanitarian drama that refuses to add politically charged fuel to an already raging fire. Read my full HTN review. Available on DVD
.
Django Unchained (The Weinstein Company/Anchor Bay) — To be totally honest, Quentin Tarantino's most recent spectacle stuck around so long that by the time the credits rolled, my distaste for the third act made me almost fully rescind my initial appreciation of the movie's first two acts/hours. It's still worth watching, I suppose. Just make sure you don't press play on an empty stomach. Available on DVD
, 2-Disc Combo Pack: Blu-ray/DVD + Digital Copy/UltraViolet
, and at Amazon Prime
.
Save the Date (MPI Home Video) — Michael Mohan's romantic dramedy pushes the twee levels up pretty high, but it also is one of the more honest depictions of a 20-something breakup that I've encountered in quite some time. Available on DVD
.
New/Old to DVD/Blu-ray
Repo Man (Criterion) — Available on DVD
and Blu-ray
.
Eclipse Series 38: Masaki Kobayashi Against The System (Criterion) — Includes The Thick-Walled Room, I Will Buy You, Black River, and The Inheritance. Available on Blu-ray
.
Have Not Seen Yet But Really/Kinda/Sorta/Maybe Wanna
One Response to "HOME VIDEO PICKS"
miu5599 Says:
April 20th, 2013 at 4:07 am

it is great.
http://www.louisvuittonmiu.com
Leave a Reply