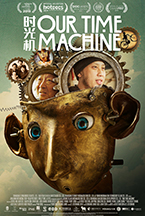 (The 2019 Tribeca Film Festival runs April 24-May 5 in New York City. HtN has writers Matt Delman, Chris Reed and Mike S. Ryan at the fest to get ready for our always deep coverage! Like what you see here on Hammer to Nail? Why not pay just $1.00 per month via Patreon to help keep us going?)
In S. Leo Chang and Yang Sun's lyrical documentary Our Time Machine, we follow Chinese artist Maleonn as he develops a theatrical puppet drama inspired by his father's fading memory. In the play, a young boy builds a time machine with which to transport himself and Dad back through various seminal points in their life together, hoping to thereby discover a remedy. What we see of both puppets and show is beautiful, though sadly in real life one cannot (yet) cure Alzheimer's and related conditions so easily. It's a bold effort, however, and results in not only a powerful staged spectacle but a lovely, meditative movie.
"We all have our time machines … Those that take us back are memories, and those that carry us forward are dreams." So opens the film with a quote from H.G. Wells. And so proceeds the narrative as we follow Maleonn from initial concept to full realization, his puppets growing before our eyes. Along the way, we learn his family history, the interesting circumstances of his birth and the creative and personal impasse he faces after 40, unmarried and without his earlier drive. His father's illness provides the catalyst to generate something new, bringing both men closer together while each can appreciate the other. Dreams not only propel us into the future, but unite us, as well.
The puppets, themselves, are worth watching, irrespective of their raison d'être. Made of metal, wood and fiberglass, and close to life-size, they move with grace, manipulated by human agents dressed in black. We see the entire rehearsal process and bits and pieces of performances, enough to grasp the splendor of the totality. Maleonn's parents, former theater professionals, attend both practices and live events, offering feedback – the father, especially – that, Maleonn hopes, will connect them to his work (and slow down his father's memory loss). Meanwhile, without quite realizing it's happening, Maleonn falls in love, and we see that, too, perhaps understanding the truth before he does. By the end of the movie, we have come to appreciate this family dearly, and to relish the time we have spent journeying through memory and art by their side.
– Christopher Llewellyn Reed (@ChrisReedFilm)
Like what you see here on Hammer to Nail? Why not pay just $1.00 per month via Patreon to help keep us going?