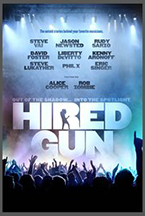 (The 2016 SXSW Film Festival kicked off March 11 and wrapped up on the 19th. We had boots on the ground and reviews are still coming in so stay tuned to HtN throughout the week!)
In this engaging and informative behind-the-scenes documentary, director Fran Strine (Dolly: Live from London) takes us on a journey into the world of backup musicians and session players. As with the 2014 documentary Oscar-winner 20 Feet from Stardom, this film explores the unsung heroes of the rock 'n' roll universe, whose blood, sweat, tears and – most importantly – talent are put in service of the careers of superstars, yet who can sometimes barely pay their own rent. From Billy Joel to Metallica, from John Cougar Mellencamp to Hillary Duff, from Pink to Alice Cooper, and beyond, these "hired guns" have played for just about every top act, and are a fascinating cast of characters.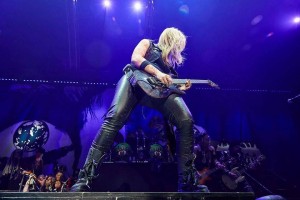 Of the many stories in the film, a few stand out. First, we have the guys who made up Billy Joel's backup band, with drummer Liberty DeVitto front and center. Before being summarily let go, DeVitto played Joel's backbeat for 30 years, which is unheard of in the industry. Joel, in the 1970s, was extremely supportive of his boys, but as his career took off and the paranoia of pop success set in, that support waned. DeVitto was luckier than the players he started off with, but even his ride eventually came to an end. Another subject we spend some time with is guitarist Jason Hook (co-producer on the film), now with the metal band Five Finger Death Punch. Though finally in a stable gig, for years he bounced around from job to job, always hoping for the best, which never materialized. Alice Cooper (a stand-up dude, according to the movie) saw him playing for Hillary Duff and hired him to play for him, which was good, but not as good for Jason as playing for his own band would be.
We hear stories of both success and failure, of anonymity and acclaim, much of it new to me, and all of it compelling. The studio musicians who made up the 1980s group Toto don't have a lot to complain about, compared to others, even if no one knows their names, but did you know that Quincy Jones hired them to play the tracks on Michael Jackson's Thriller? Or did you know that George Benson's megahit "Turn Your Love Around" was written by some of these same guys (including one from Toto, Steve Lukather)? As a history of the last 40 years of pop music, this film is more than just solid; it's a must-see. I particularly liked how Strine gathers many of the backup players into a studio, for the movie, to play, together, songs of their own. Though most of the folks profiled here are middle-aged or older, perhaps Hired Gun will finally bring them some well-earned tribute.
– Christopher Llewellyn Reed (@ChrisReedFilm)