(Sebastian Schipper's "Victoria" screened in the main competition section of the 65th Berlin International Film Festival where it won the Silver Bear for Outstanding Artistic Contribution for Cinematography and has been creating a buzz at festivals around the globe.)
Victoria wants you to know from the start it's not messing around. The poster's tagline says "One Girl. One City. One Night. One Take."Holy shit. It pulls no punches and informs what's in store —a feature film shot in one take. Very ambitious and appetizing. This has been done before and in some pretty innovative ways: Timecode, Russian Ark, PVC-1, La Casa Muda (not the U.S. remake), and Unfriended. (It should be noted that Alfred Hitchcock's Rope would have been a single take if digital cameras were available or print could hold the amount of 35 mm film he needed to achieve his goal.) The filmmakers and crew behind these films had the chutzpah to go for it, but Victoria pulls it off better and more captivating in every imaginable way.
Victoria starts off in a club and the camera gets close to and follows the zany, frenetic, and free-spirited titular character (Laia Costa, in a really damn spectacular performance), who is dancing to the beat of the music. She buys a shot and leaves the club. While leaving, she meets four guys: Sonne (Frederick Lau, who charms as the movie moves along), Boxer, (Franz Rogowski), Blinker (Burak Yigit), and Fuß (Max Mauff), who want her to hang out with them. The setting is in Berlin, where Victoria is a foreigner. It's not clear why she's in Berlin, but a good guess is she left Madrid for an adventure in Germany. This is a night full of that and she will never forget it.
As the night carries on, they meander the streets, drink beer, and just shoot the shit with each other. The four guys have no intention to harm Victoria in any fashion —they are, in fact, very cavalier towards her —and it's obvious from the get-go, but there is clear chemistry between her and Sonne.
The night feels like a dream but soon takes a terse turn into a nightmare when Victoria is told Boxer is in trouble and needs her as a driver for a bank robbery to pay off a debt that added up when he went to prison for a crime he regrets. To payback Boxer's debt, they are forced to rob a bank. It turns from a hangout movie to a heist thriller in the seedy underworld of Berlin in mere seconds. As they wade through the robbery, innocence is compromised and mortality is realized. This, dear reader, is when the real meat of the choice to shoot in one take pays off — in the harrowing third act. The shot choice is not a gimmick just for the last act for this movie, mind you, we are supposed to meander with them for a good while because it makes us feel a part of their crew, so we worry when they are put in imminent danger.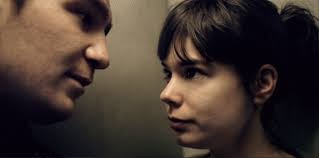 The single take in Victoria is grandiose, batshit crazy, and amazing, but the real payoff from this film is the lead playing the titular character, Laia Costa. Playing Victoria is demanding on quite a few intimidating levels: the ability to be in front of the camera for over two hours nonstop and never break character, and carry the film (which she does effortlessly). Costa not only makes it dazzling, she reminds you how beautiful and exciting life is —her charisma percolates throughout the movie and she really lights up the screen with an abundance of pizzazz audiences will adore. Costa is a virtuoso of talent and her nuanced emotional range is going to make her a star.
Another praise worth mentioning is the score, provided by composer Nils Frahm. It's dreamy and intoxicating. There's a moment in the film when all five are at perhaps the happiest moment of their lives. They are dancing and having a time. What makes this scene so remarkable and alive is the score. As the five dance and drink the night away, we get drunk on the music.
For the single shot, Victoria doesn't stop once for air because it can't afford any noticeable screw-ups for two hours and fifteen minutes or they'll have to start all over (apparently, they nailed it on the third try).
It's a real riot that the camera remains unbroken for two hours and fifteen minutes and not one moment seems out of place or there just to fill time. It's also profound that they mapped out how to keep the cameraman and crew behind the lens out of the shot.
Victoria is an enchanting love story, an exuberant heist film, and one crazy adventure. Co-writer and director Sebastian Schipper's taught script and Sturla Brandth Grøvlen's sharp shooting doesn't lose focus once. The film is imbued with tremendous energy. When you are watching Victoria, it comes alive. It's wild, it's bold, and the final act is an exhilarating force that will leave you slack-jawed. Victoria will linger in your mind long after you've seen it, guaranteed.
– Chase Whale (@ChaseWhale)