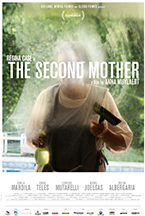 (Veteran writer/director Anna Muylaert's latest film The Second Mother made its debut at the 2015 Sundance Film Festival and stars Regina Casé and Camila Márdila were awarded World Cinema Dramatic Special Jury Award for Acting. The film is out now in theaters courtesy of the fine folks at Oscilloscope.)
There's a new movie in town that's going to rule your world. It's called The Second Mother, is written and directed by Anna Muylaert (The Year My Parents Went on Vacation), and stars Regina Casé (Me You Them), who the Academy better recognize for her masterful performance or I'm going to riot.
Taking place in São Paulo, The Second Mother is a character-focused story about workaholic Val (Casé), a live-in maid who works for rich and visibly unappreciative yuppies. (Val is the hardest working live-in maid you'll ever see on screen, that I can guarantee.) Even though there are many big and pretty rooms in the place, Val is put to live in the smallest corner of the mansion. But that doesn't bother her — she appreciates the living space to its fullest.
Life is simple and somewhat easy despite the hyper-surveillance she endures from one of her bosses, Barbara (Karine Teles). Things, as they say, get complicated and Val's job is compromised when her daughter — who she hasn't seen in a long time — randomly shows up. Jessica (her daughter) is young, naive, unappreciative (she calls Val "Val" instead of "Mom,"), and uncultured when it comes to manners. Val now has two jobs on her hands —  cleaning up Jessica's mess, figuratively and literally, being the second.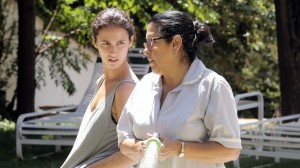 The camera observes The Second Mother as well as its message very closely: social status. Val is the servant and her bosses are the masters. Sometimes they acknowledge her when firing demands, sometimes they don't. They may not have a chain around Val's neck but you can still feel the weight pulling down on her. Doesn't matter, she keeps the smile wide and, even though at times it's for show, Val is still a rare human out to better this world. She radiates hope for a better tomorrow. She is a superhero and doesn't need powers or a cape to prove it.
As Val, Casé is aces and you will not see a better performance this year. She hides Val's stress well and makes this character her own. Val's freedom to do as she pleases may be confiscated — you will rarely catch her not working — but she lives like a free woman. This is a human being who enjoys simple pleasures in life: being alive, helping others, impressing her unimpressed daughter, her little box called a home, her small little TV in her small little box, and products most of us goons take for granted. When taking notes, I wrote down "Thermos" because there's a scene where Val presents a thermos as a gift to Barbara. To Barbara, it's a cheap and worthless gift. To Val, the thermos is a true treasure. It's impossible to not fall in love with Val and want to squeeze her for confirming there are kind and thoughtful and selfless people in this world, and that's another thing that makes Casé's performance great.
The Second Mother is a quiet movie (sorry, no robots or alien invasions) and that's OK because the big reward is watching Regina Casé. It's a peaceful and mighty performance. If she doesn't capture your heart and attention in her first few scenes, you are watching it wrong. But don't worry, The Second Mother, Muylaert, and this writer are confident you will be immersed in Casé's beautifully-nuanced performance and the emotionally-charged movie from frame one to the final scene. Maybe they'll do a spinoff of Val just for me. Val Versus the World.
– Chase Whale (@ChaseWhale)