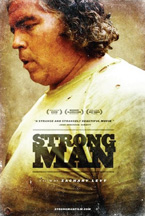 (Strongman is now available on DVD
and at Amazon Instant
through Passion River. It opened theatrically in New York City at the IFC Center on Wednesday, January 26, 2011. Visit the film's official website to learn more. NOTE: This review was first published on 5/11/09.)
"Sometimes it looks like when you're comin' in first you're really comin' in last." — Stanley "Stanless Steel" Pleskun
Throughout Zachary Levy's feature-length documentary debut Strongman—winner of the Grand Jury Prize at the 2009 Slamdance Film Festival—Stanley "Stanless Steel" Pleskun uses his kielbasa-sized fingers to try to bend a penny and prove that he's a strongman superstar of the highest order. The site of this aging, hulking, bulging, grimacing figure struggling with America's smallest monetary increment is as loaded as it sounds: it's funny, tragic, fascinating, and sad. Just like Levy's film. In showing one man's tireless quest to wrap the tips of his monstrous fingers around an even somewhat tiny piece of the American dream, Levy has produced a heartbreaking drama that would make Eugene O'Neill proud.
It's pretty much impossible not to make a connection between Strongman and Darren Aronofsky's The Wrestler. Both feature longhaired, seemingly past their prime fringe athletes living in a dilapidated New Jersey who are chasing a dwindling dream as the outside world relentlessly presses down upon them. But there's one major difference between the two. As staggeringly great as Mickey Rourke's performance was, that character was nonetheless living and breathing inside an artificially constructed Hollywood movie. In Strongman, while there are the necessary ups and downs and story arcs that make for great dramatic viewing, this is a real man that we're watching, and this is his painfully real life.
During the day, Stanley scraps large loads of steel, metal, and detritus to pay the rent. At night and on the weekends, he devotes the rest of his time to training and performing impressive feats in less-than-glamorous environments (parking lots, children's birthday parties, etc.). Every now and then, he gets a seemingly decent gig—traveling to England to be on a television show or flying to Florida to perform at a trade show—yet these trips don't lead to anything bigger or better, and they certainly don't pay very well. They simply remind Stanley that he's not where he wants to be.
For every aspiring-to-greatness almost-hero, there is a devoted woman. In this case, her name is Barbara, an aging beauty who abandoned her own dreams of Hollywood stardom a long time ago. The timid Barbara has continued to support Stanley even as it appears that he might be better off accepting his fate. Yet for Stanless Steel, that big break is still within his grasp, somewhere in the near enough distance ahead. Barbara's sister and Stanley don't get along, and she continually tries to get Barbara to leave Stanley behind. Eventually, the pressure becomes too much to bear; as a result, Barbara confronts Stanley.
During that climactic showdown, in which Barbara's sister is there to argue alongside her sister, Stanley realizes that he's losing a two-on-one battle. Out of utter frustration, he turns to Levy's camera to plead his case. While Stanley acknowledges Levy throughout the film, this particular crossing of the line adds a crushing weight of sadness to Stanley's character. At this moment, he has nowhere to turn, and while he has never been proactively cruel to Barbara, he never gave her the full amount of love and attention she craved and deserved. As a result, Stanley's forced to pack his bags and move into his old bedroom with his alcoholic mess of a brother. Things might have been bad, but now they're much, much worse.
It's difficult not to make Strongman sound like a grueling, depressing experience. In many ways, it is. But Levy shows sensitivity behind the camera. He never degrades or belittles Stanley or Barbara, and he also embraces the humor in so many of these situations. When Stanley repeatedly can't seem to figure out how to work his hotel room's key card in England, it makes one laugh and cringe at the same time. At that moment, Stanley Pleskun is every man who's ever had a dream but can't seem to grasp the first basic step to attaining it. He's the loser in all of us. Strongman is an almost crushingly honest portrait of honest-to-goodness American struggle.
— Michael Tully