A Conversation with Rick Alverson (Entertainment)
(Entertainment had its world premiere at Sundance, then went on to play at SXSW and was finally snatched up by a distributor, Magnolia Pictures. It's set for a November 13th release date but is still making festival rounds. Since it's screening at Sundance's Next Fest on August 8th, we thought it would be a good idea to talk to co-wrier/director Rick Alverson about his latest deranged masterpiece)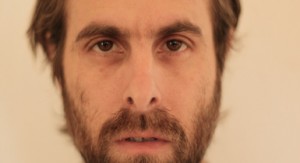 One of the best movies of the year is Rick Alverson's Entertainment. Echoing his previous film The Comedy, Entertainment is a polarizing, dark look inside a broken man's broken spirit. There are moments of laughter peppered throughout, but those moments of hilarity are at someone else's expense. It's awkward every time but Alverson is a real pro at showing the harsh realities, oddities, and disappointments of American life.
 Hammer to Nail: Gregg Turkington plays a version of his alter ego Neil Hamburger — was that the idea from the beginning? 
Rick Alverson: We set out to borrow that character for the stage performances. The idea was to have an exasperated, animated extroversion on stage and the inverse off stage.
Htn: You co-wrote the film with Turkington and Tim Heidecker, two men as weird and wonderful as you. During the writing process, who had the most deranged ideas that didn't make it into the film? 
RA: I suppose that would be me.
HtN: If any, what are some of the jokes or scenes that didn't make it into the film that you want to share? 
RA: I wanted the onstage performances to be more tonal than entertaining or even off-putting. I was looking for the flat stuff that Gregg can do in character when he feels it's necessary, and the idiosyncrasies of it, the coughing and grunts and repetitions. So there were a lot of jokes that ended up being cut that were too funny or just didn't fit the intent or pacing of that particular performance.
Htn: How much of Turkingtons peformance as "The Comedian" was improvised versus sticking to the script?
RA: It was all scripted, he wrote the stage performances and they are highly refined and considered, and the offstage material was scripted in my usual manner, using dialogue tonally, allowing blocked improvisation while sticking to the intent and guides of the scene, trying to catch the thing falling apart in the right way. There were scenes also that had written dialogue or prompted dialogue.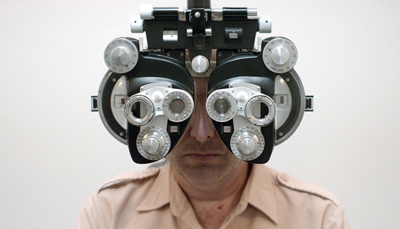 HtN: Who came up with joke about Courtney Love? That joke is brilliant. 
RA: Gregg Turkington.
HtN: It seems like you really want to push the boundary when it comes to comedy. The Comedy and Entertainment are both incredibly dark and filthy and really tests what kind of audience you have made is for. Is there anything you've written that you felt was too much?
RA: I'm not interested in losing the audience, but I am certainly interested in discovering how dynamic the experience can be. I also need it to be uncomfortable.
HtN: One of the fascinating aspects about the movie is the in-between scenes. When "The Comedian" is not doing a comedy bit, he's on some kind of history tour throughout in the desert. Why did you, Gregg, and Tim decide to use this as the backdrop? 
RA: It was important that he was casual and indifferent off stage, stripped of any real identity. The tours were an extension of the hell of an endless performance. They seemed to heighten the feeling that no one is useful in the world of the film any longer, nothing is being made, only consumed and marketed and imported, and what little is made is engineered to be as palpable as possible, and any subversion is squashed by the availability of everything, the exposure to everything. This was touched on in my movie The Comedy as well, but that was a more extreme dystopian sort of exploration. This is purgatory.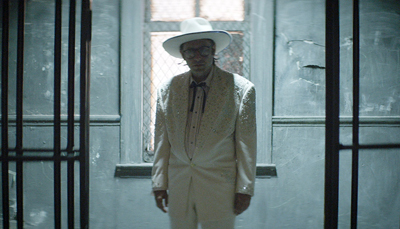 HtN: Entertainment is a pretty hard film to swallow when we begin to learn about "The Comedian's" melancholic lifestyle in as well as out of character. What was the challenge of balancing the sad bastard parts with comedy? 
RA: I think it's more about finding dynamics and playing with thresholds and expectations than about a happy/sad consideration.
HtN: You cast Tye Sheridan in the film, a young actor who's tearing it up and quickly establishing himself as one of the go-to actors for cinema. What about him made you want him to tackle the role of the vaudeville-esque, pantomiming clown? 
RA: It seemed so against his previous work, the onstage character, Eddie. He and I felt it would be exciting and he understood the role very well.
HtN: Michael Cera has what is probably one of the strangest cameos of all time in a movie. What was the purpose for using him for this scene? 
RA: Michael and I had been talking about working together and Entertainment was developing into something with a lot of elements to it, it felt like a surreal smorgasbord, and I liked the idea of Michael being one of the bodies deprived of context that would greet The Comedian on his way down.
HtN: One thing I love about your films is they feel like they are not made for a specific audience, that you are telling stories you want to tell and it's a bonus if people like them. Is this safe to say this is true? 
RA: Yes and no. I certainly am not interested in making films solely for myself. With this project and The Comedy I spent a lot of time thinking about audiences and viewership and built challenges and hurdles and traps into them both in a effort to discover the edges of the thing, for myself and for the audience. How much can we stir someone up before they are either dismissive and or intoxicated? What does that space between look like, what's left of it? It seems our tastes as Americans in media and entertainment necessitate a kind of coddling, one that propagates our increasingly self-engineered experiences. The vendors of the endless options we appear to have know human behavior well and have for a long time. We will self-limit our options and experiences. We will do the dumbing down for them. It's important for a group of people to work in opposition to those motives and objectives and see if there's anything constructive left in those impulses.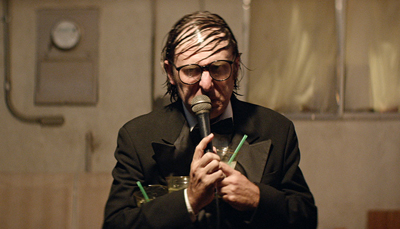 HtN: I was at Sundance for the premiere of  The Comedy, which was one of my favorite films 2012. Like this film, Entertainment is a dark, hard watch. What is it that makes you want to tell stories about repulsive characters who are really just misunderstood?
RA: I think the act of stretching one's sympathies and interests in the decadence of the living room or theater is necessary. I think a lack of sure footing is essential to experience. I like the idea of an audience that has to contend with itself, not by being served a convenient reflection of themselves, one that they can root for and one that validates their views, but by being challenged or even shocked into something more vital and less passive.
HtN: I read that you're a fan of Monte Hellman's excellent Two-Lane Blacktop. What are some other films from the 70s you'd put in your bucket of favorites? 
RA: A Woman Under the Influence, Stroszek, The Tim Drum, The American Friend, Out of the Blue, The Tenant, The Deer Hunter, Straw Dogs.
– Chase Whale (@ChaseWhale)