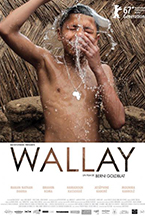 (The Annapolis Film Festival ran March 22-25 in, you guessed it, Annapolis Maryland. We have a slew of reviews coming your way so keep your dial tuned to HtN!)
In a work of vibrant, cross-cultural filmmaking, director Berni Goldblatt (Ceux de la colline), in Wallay, explores the generational conflicts among the members of an extended, intercontinental family. 13-year-old Ady (Makan Nathan Diarra), of Burkinabe origins, lives in France with his father. In an opening scene between the two, we see them violently disagree on something, but don't know what. Cut to a plane landing in the West-Central African country of Burkina Faso, and Ady is off on what he thinks is a short vacation to his father's homeland. Instead, he finds himself stuck in the middle of a roiling drama, his father's brother, "Tonton Amadou" (Hamadoun Kassogué), accusing him of stealing the money orders that were supposed to come his way. The stage is set for the young man's comeuppance.
For Ady is a spoiled first-worlder, always glued to his iPhone. A thoroughly French boy, he can't adapt to the power outages, lack of hot water and other missing elements of his metropolitan lifestyle. Still, he is not without his good qualities, despite what he may (or may not) have done with the money, and soon is able to make friends with his cousins, including Jean (Ibrahim Koma), a pleasant twentysomething who takes him to see their grandmother. She's a warm matriarch whose soothing touch helps Ady acclimate to the new environment. And at least one of his distant cousins is a very attractive girl his own age. Perhaps Burkina Faso won't be that bad, after all.
Except that Amadou has additional fears of Ady's westernization. He thinks his brother has not raised Ady as a proper Muslim – he's not even circumcised! – and so takes it upon himself to correct the error. That process does not go well, and soon the older man and the boy are at even more serious loggerheads, and we follow their increasingly complex relationship with avid interest. Throughout, Goldblatt and his actors do a fine job juggling the various characters and story threads, creating a moving tale of personal growth and redemption.
– Christopher Llewellyn Reed (@ChrisReedFilm)