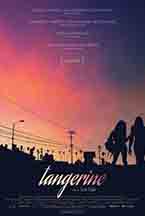 (Sean Baker's film Tangerine made a huge splash at this years Sundance Film Festival not only because it was entirely shot on iPhone's but also, because it's amazing. The film drops in July via Magnolia Pictures but is still making the festival rounds with a stop tonight at the Oak Cliff Film Festival in Dallas.)
There's been a lot of great films that have captured the heart, the humor, the horror and the Hollywood of living in Los Angeles: Sunset Boulevard, L.A. Story, Robert Altman's Short Cuts and The Player, Pretty Woman, the Beverly Hills Cop trilogy, Reservoir Dogs, Terminator 2: Judgment Day, The Big Lebowski, Double Indemnity, Clueless, Heat, The Graduate, Chinatown, Welcome to L.A., L.A. Confidential, The Artist — the list goes on and is quite long.
However, there have been very few to show the underbelly of L.A.: Paul Thomas Anderson's unrivaled Boogie Nights and John Singleton's rough and tough Boyz N The Hood are the first to come to mind. Not many movies have captured the ugly behind-the-scenes of what goes on in the streets of Los Angeles. Well, there's a new film coming out called Tangerine and it's a fast-paced adrenaline shot to the heart that shows that very filthy side of the streets of L.A., but somehow, along the film's journey, it becomes strangely endearing and quite lovable.
Bear with me while I explain the plot and please, believe it's real. Tangerine literally follows a day in the life of two foul-mouthed transgender prostitutes in the heart of Los Angeles. It's early morning on Christmas Eve and Sin-Dee (Kitana Kiki Rodriguez) and Alexandra (Mya Taylor) are hanging out at their favorite joint, a donut shop called Donut Time. Sin-Dee just got out of prison and they are just chilling before going to work. It's then that Alexandra makes a big mistake and sets the whole story in high speed: she tells Sin-Dee that their pimp — who's Sin-Dee's boyfriend — has been cheating on her while she was locked up. Knowing she's sassy and nasty enough to get thrown in jail, Sin-Dee doesn't hesitate or take a moment to breathe: she goes on a woman and man hunt to find the girl her boyfriend/pimp has been bumping uglies with as well as her man himself. When she finds them, the shit, as they say, will hit the fan.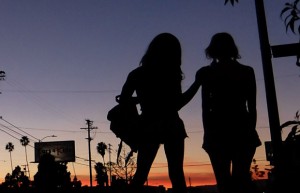 Tangerine is one of the most batshit crazy movies I've ever seen. The story moves just as fast as the girls talk and the film comes with a cocaine-fused soundtrack. Everything about Tangerine is on hyper-speed. What's even better is it's a movie about L.A. Los Angeles doesn't want you to see. It shows you the underbelly of the city and what really goes on in the streets. It's not all glitz and glamour: Los Angeles is an ugly town masked with celebrities and fancy cars.
Tangerine was shot on three iPhone 5s smartphones and the title comes from the orange tint the movie has through out its duration. Or the name comes from the tangerine air freshener the cab driver who keeps reappearing throughout the film has in his car. I'm going with both.
With the exception of a short film and one episode of a TV show, the two leads have never acted before. Doesn't matter, they are both so natural in front of the camera and you'd never be able to know they are fresh in front of a camera unless you looked them up on IMDb. These two are so good in this film, the life of Tangerine, and it's hard not to fall in love with these two by the end.
When we first meet Sin-Dee and Alexandra, they are people we see as nasty prostitutes with nasty language. By the end of the film, we are reminded that they have hearts that can be hurt, and are doing what they can to survive. Sound familiar?
– Chase Whale (@ChaseWhale)