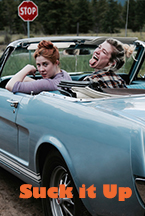 (The 2017 Slamdance Film Festival kicked off on January 20 and ran through January 26. The HtN staff repped Slamdance hard with reviews like this one, Jordan Canning's roller coaster ride Suck it Up.)
Lifelong best friends Ronnie (Grace Glowicki) and Faye (Erin Carter) handle grief quite differently from each other. Garrett, Ronnie's brother and Faye's first love, recently died of cancer. Destroyed by the loss of her brother, Ronnie became an all-out drunkard. Faye, on the other hand, took up knitting. As someone who likes to plan and be organized, Faye grows increasingly concerned by Ronnie's outlandish and unpredictable behavior. It is obvious that Ronnie is spiraling out of control rather quickly. Riddled with maternal concern for her friend's wellbeing, Faye lugs Ronnie's passed out body to the car, whisking her away to a lakeside cottage in rural British Columbia. Let's just say that Ronnie is not a happy camper when she regains consciousness and realizes what is going on. But, hey, it could be much worse, at least this is not some sort of intervention or detox. Faye is just hoping that the change of scenery and fresh air will help Ronnie straighten up – and, yeah, hopefully cut back on her alcohol consumption in the process.
Directed by Jordan Canning, Suck It Up tackles the subject of grief by studiously observing two characters with opposite personas, but who share a deep connection, as they recover from the same trauma simultaneously. It is a set up for an intriguing character study, examining the coping (and recovery) mechanisms of these two very distinct personalities. Throughout the process, Suck It Up twists the viewer's emotions into a pretzel, constantly switching from laugh out loud moments to sheer sadness and back again. The quick alterations in tone are most likely derived directly from Julia Hoff's screenplay, but Glowicki and Carter deserve credit for being able to pull off the emotional roller coaster so effortlessly. Their odd couple relationship, which is the true heart of the film, works because of their honest and grounded performances.
Suck It Up provides a bevy of a highly entertaining examples of how not to deal with the death of a loved one, as well as how not to take care of someone else dealing with the death of a loved one. Sure, there are plenty of heartfelt, positive examples as well, but it's the bad examples that will probably stick with you the longest.
– Don Simpson (@thatdonsimpson)