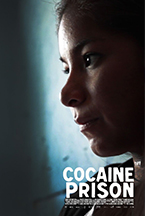 (The Double Exposure Film Festival runs October 19-22 in Washington, D.C. We're fortunate enough to have HtN Lead Critic attending who will have a smattering of reviews. Stay tuned for more…)
Perhaps the most surprising thing about Cocaine Prison, a raw new documentary about the wages of cocaine traffic in Bolivia, is that we never see any of the titular drug, itself, nor anyone using it for recreation. We see coca leaves, fresh and dried, and understand their importance within the local economy, but the plant is treated as just another crop to be harvested. It's still illegal, though a thriving black market hides in plain sight, and unless one is a member of the poor underclass that cultivates and processes the stuff, there is little to fear in the way of significant consequences. Director Violeta Ayala focuses her lens, however, on those unfortunate souls who do suffer jail sentences, in the process creating a hard-hitting exposé of corruption and injustice.
Did I say lens? Actually, try many. Ayala and her producers have the great idea to give small digital cameras to the inmates of San Sebastian prison of Cochabamba, where much of the story takes place, thereby bringing us, literally, inside the system. Much as it did in the brilliant 2004 documentary Born into Brothels, where the filmmakers gave the children of the red-light district cameras to tell their own stories, this technique lends a direct intimacy to the narrative. We are there, side by the side with the accused as they make do, living lives defined by hopelessness.
We start outside, at the coca farm managed by the parents of siblings Hernan and Daisy, who each have dreams to escape the countryside, go to college, and move up in the world. These dreams are what lead Hernan to take a job from the "boss," Don Carlos, that sends him, with a bag of cocaine, to next-door Argentina, where he is promptly arrested. Cut to prison, a far cry from the idyllic jungle of his parents' farm. Sure, he did the crime, but the filmmakers make clear that the only ones who serve actual sentences are those that cannot afford bribes.
For the rest of the movie, we immerse ourselves in this community of unfortunates at San Sebastian. Perhaps their misery makes them companionable, as they appear a friendly bunch, supportive of each other and thoughtful about their plight (and the reasons for it). These are far from violent offenders, just men who had no other options and were in the wrong place at the wrong time. Daisy comes and goes, visiting her brother and getting to know Mario, an older prisoner who takes Hernan under his wing. They're like a family, though hardly a happy one.
Despite it all, there are moments of joy: the film is far from bleak, even as it condemns an unjust political establishment. By giving her subjects some agency over how their lives are represented, Ayala is also able to keep her film free from the excesses of ethnographic poverty porn. In its brisk 74 minutes, with its multiple points of view, Cocaine Prison speaks documentary truth to power as sharply as any work of investigative journalism. That's quite the cinematic rush; who needs actual drugs?
– Christopher Llewellyn Reed (@ChrisReedFilm)