THE LANDMARK ON WEST PICO by Noah Buschel
I recently saw Wes Anderson's Moonrise Kingdom, in limited release, surrounded by other under-40-year-old white people. It was a clean theater with ferociously terrific air conditioning, and the scent of early summer suntan lotion, and the thrill of early summer promise in the air. Here we all were. And Wes Anderson had tailor-made his tailor-made movie just for such a crowd. Just for such a scene.
Before the trailers, in the seat ahead of me, the girl in the newsboy hat talked about Lena Dunham's Girls. About how everyone should leave the show alone, stop questioning its politics or lack thereof, and how there was nothing wrong with a little youthful navel gazing after all. Not everything, she declared, had to be, like, socially relevant to everyone everywhere. Her partner—who I sensed, like me, had been dragged to this movie by his girlfriend—wondered out loud why the four actresses that made up the cast of Girls were all the daughters of celebrities. He mumbled that watching four celeb daughters imitate regular 20-somethings was sorta like watching Will Smith pretend he wasn't one of the aliens in MIB 3. It was a cheap shot and his beloved huffed and puffed and turned her attention to Zooey Deschanel's Siri commercial on the big screen. The commercial seemed to soothe her frayed nerves.
The theater was packed like an airplane on Thanksgiving Eve, but no one was going anywhere. This was a movie that had to be seen. This was a movie that would be central to small talk conversations in the coming months. My girlfriend went to go piss, and I had a while to explore the tattoos that went up and down the guy's arm next to me. There was a Chinese dragon, a Native American owl, something in Hawaiian about surfing, a Talmudical turtle, John Belushi's face, and the logo for Best Western hotels.
I remembered back to being in high school, and cutting class, and going to see Bottle Rocket matinees four or five times in the empty and ratty basement theater of the Imax on 68th and Broadway. That was before Wes Anderson got the budgets to make big dollhouses—dollhouses so big you could run away from your own self in them. And Owen Wilson was his co-writer. Together they made a character named Dignan. A character so true to life and unique, that even now, over a decade later, I could still recall everything about him—even if now Anderson had replaced Dignan with specific submarines, big suicide stakes, quips upon quips, and legions of perfectly placed luggage.
Before going into the Landmark, I read an interview with Anderson at a little book store down the street. He was saying how his palette was limited because he mostly doesn't adapt his scripts, they're originals. The way he figured it, he was bound to play his Francoise Hardy note over and over again, because he was just one person with one set of experiences. Then I read an interview with the recently deceased writer, Nanao Sakaki. Here's a quote from that Sakaki interview:
"We think we are the slave of experience, but not so, we are more free! Yeah, we can be more separated from our own experience. Most people think experience, experience, experience, but it's not true! We can jump over experience! Like—if you come from poor society then you think this way. What!? I don't think so, no need of such stuff. We have bigger riches, the world we live in. We're not slaves of experience, our life is something else. Something else is more interesting stuff."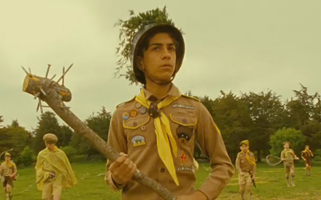 My girlfriend got back from the bathroom. The lights went down some. The nice thing about this crowd was they didn't really eat much—so no one was stinking up the theater with hotdogs or nacho cheese and if they had a bag of popcorn it was a small bag and thus didn't make a ton of rumple noise. Mostly it was a crowd of Dasani sippers.
The trailers didn't play so well. It would be almost impossible to find the right trailers for such an elegant and refined crowd. Maybe P.T. Anderson's next film and a Jim Jarmusch preview would have worked—heck, that would be like shooting fish in a barrel—but other than that… Sly Stallone never stood a ghost of a chance with this crowd.
Once the movie got going… I have to be honest, I fell asleep about a half hour into it. I do remember the esteemed audience chuckling in knowing delight at good old Wes's now familiar and endearing, melancholy and zany auteurial bag of tricks. And there seemed to be a good communal gladness at seeing Bruce Willis and Bill Murray and Frances McDormand in 1960s eyeglass frames. There were even a few moments of outright laughter. But it's funny—it was a strange kind of laughter. Almost desperate like. A nervousness and timidity inside the guffaws. Almost like the crowd knew that if they didn't laugh, they wouldn't collectively validate their choices and tastes and lives. And then the whole summer would be a bummer. Anyways, I fell asleep. The lead kid, who didn't seem human to me at all, in his own mini retro eyeglass frames, did something charmingly troubled—and everyone laughed—and as I drifted away, the laughter almost sounded like crying.
— Noah Buschel
15 Responses to "THE LANDMARK ON WEST PICO by Noah Buschel"
Leave a Reply