AMAZON, WHAT ARE YOU GONNA DO WITH YOUR LIFE? by Noah Buschel
It's getting hot out and we're all getting dumb. Julio just put ketchup on my pretzel. It's okay. I mean, I asked for mustard—but it's fucking hot out and the cabbies are honkin' and the Naked Cowboy is trying to play a G flat with his penis hanging out and Times Square is getting ready to turn all its lights on. I guess a couple tourists still get impressed. Like that old Japanese lady with the camera. I'm worried about her heart.
Anyways, now's about the time I go dead straight for an air conditioned movie theater. I have no time to explain to Julio. Ain't looking for a masterpiece. Just something that doesn't hurt me and passes a little time. A Niagara Falls setting would be fine. Honeymooners. Hotels. Egyptians.
Ol' Nas from Queensbridge has a song called "What Goes Around." Lately every time I get to the AMC Empire 25 I hear that song in my mind:
"Hey yo it's poison, Yeah yo it's poison
Ecstasy, coke, you say it's love, it is poison
Schools where I learned they should be burned, it is poison
Physicians prescriptin' us medicine which is poison
Doctors injectin' our infants with the poison
Religion misoverstood is poison"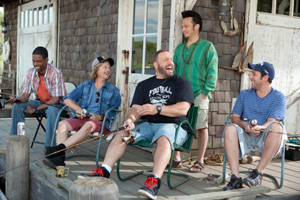 I keep hearin' these lyrics when I get to the theater. When I see the Brendan Fraser poster and the Travolta poster and Nic Cage's hairplugs and Tom Hanks' hairplugs and Matthew McConaughey and Ed Norton and Steve Carell and Kevin Costner and Jason Patric, and 90 percent of the movie stars with these weird fucking hairplugs. I mean they're just weird. Bogart's piece wasn't nearly as distracting as whatever the hell is going on with the entire cast of Grown Ups. Bogart's piece was fine, as Hollywood goes. But these plugged guys all look like they're in brain pain. It hurts my eyes. And the movies hurt. Because they're all about infancy. I realize the prime audience is not someone over 30 like myself—but still I get nauseous. It might have been Julio's ketchup on the pretzel, but I don't think so. It's this thing where love is snuffed like a cigarette and the natural order of time gets inverted and slighted. And the old, wise person in us is mutilated and spit on. It's sordid. It's poison, like my boy Nas says.
What the hell did Jennifer Aniston do to her mug? And Cameron Diaz? How are we supposed to concentrate on these films when we're just being confronted with the complete vileness of Hollywood and what it does to people? The poetic words aren't potent when they're coming out of Nicole Kidman's synthetic visage. They couldn't be. Because it's all, in its quintessence, a lie.
One of my best friends is a movie star of some degree now—and she's become a bulimic. And it's obvious. And none of the people she works with care. She looks like every other boring actress now. She used to look like Gena Rowlands mixed with Patricia Neal and Geraldine Page and all kinds of good stuff. Now she's just like everyone else. And she trips around the streets trying to project charisma. But she's dying.
This is all old news, but is it my imagination, or is it getting worse? Maybe reality TV standards are slowly infiltrating mainstream films and we're really getting fed garbage like no time before. It's low low low out there. You don't even really wanna compare the intelligence level of pop culture today to that of even the recent past. You don't wanna think about how we've gone from Bill Murray to Will Ferrell. Or George Lucas to J.J. Abrams. And if you go back further, then it gets really depressing. Is Gerard Butler today's Kirk Douglas? Is Clive Owen today's Paul Newman? Is Julia Roberts today's Katharine Hepburn?
So I'm staying away from the movies, and I'm giving them lots of room. Jamie Foxx can go fuck himself in the corner of the club. And every once in a while I'll hang out with the rats at the IFC Center or go see revivals or documentaries about French people who talk a lot. But mostly I just quit movies. Shit, I feel like they quit me. And all my movie-going friends. They don't even pretend to take us seriously anymore.
Anyways, it had been over a month since I stepped foot on a sticky cinema floor. My friend Mack Cole Edelsack convinced me to go see Neil Young Trunk Show. I wasn't doing a hell of a lot so I hesitantly agreed. Mack doesn't really take no for an answer and offered me some Twizzlers, so…
I was all casual, yawn, yawn, yawn, grumpy. 'Where else do you wanna be?'—Mack asked, annoyed. 'Maybe window shopping for lamps,' I answered. And then the house lights went down and lightning shot out of the projector. Jonathan Demme's concert film was nothing short of medicinal. An exact antidote for a sick moviegoer. When's the last time you walked out of the theater and felt like you had just taken a shower? That was me. On the soiled corner. Hygienic. Refreshed. Unapologetically myself.
Those AMC 25 movies play on our psyches a lot like the news does. They pick our scabs and flame our fears. You better appear this way. You better love shiny things, violent sex, uzis, and always have something witty to say after you crush somebody. Gone, for the most part, are real faces, real people. Instead of Robert Duvall we get Bradley Cooper. Instead of Shelley Duvall we get Scarlett Johansson. We shrug it off, the plastic hollowness, but the toll it can take is large. Not to be melodramatic, but it can even ruin people's lives.
But then, damn, there's this movie by Jonathan Demme. And I don't know what happened, but this guy Demme clearly didn't get the memo that almost every other director got in the early 2000s. All Demme does, over and over again, is try new things. That's all he does anymore. He's what a lot of filmmakers used to be—an explorer.
And there isn't a director alive who loves music more. Or who realizes music more. Going all the way back to Something Wild. The dance wedding sequence in Rachel Getting Married testifies to this plenty enough.
So now Demme is training his eye and ear on Neil Young. Neil Young, who never sold out and who never sold his barn. Neil Young, who is, after all, just Neil Young. Nothing extra. Just an artist jamming, working, noticing the world around him. Demme's job is simply to notice Neil Young. And then we're in there. Faraway from Megan Fox and Shrek. We're in a place of natural beauty and wonderful imperfection. My shoulders dropped. I breathed. It had been a while since a film told me—no, encouraged me—to be human.
A 64-year-old artist just walking the walk for 83 minutes, putting pride aside, being tender, angry, funny and honest. Springsteen can manipulate nature through work ethic and technology, and it's impressive. But to see someone act their own age is even more impressive. If Springsteen's battle cry is No Retreat, No Surrender, maybe Young's is the opposite. The stage at the Tower Theater in Upper Darby, Pennsylvania, is relaxed and chillin' too. We could be at a summer camp talent show. And Young isn't even trying to win.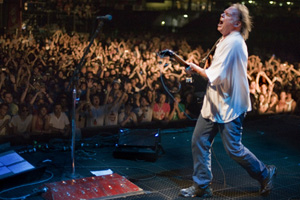 The movie hits it's stride with a 14-minute version of "No Hidden Path." It's an all out jam. The guitar strings begin to vibrate and wash over and then you know how to find your way through the forest of brambles and entanglements with freedom and ease. All of a sudden, aging don't seem so bad. Seems sort of grand. All of a sudden, the strangeness of the universe doesn't seem so scary, but kind of astounding and fantastic. We're all dying.
Demme makes himself hardly noticeable. There's closeups, faraway shots, grainy shots… who cares? It's just a movie. It's just a concert. It's just people. Nothing picture perfect. Mistakes here and there. Mistakes okay. Not too much thinking. No, not too much thinking at all. Don't be fooled by others, Young and Demme seem to be saying. No, I won't.
Of course I listened to Young's music for the next few weeks constantly. One song I kept on repeat was "Natural Beauty" from Harvest Moon.
"A Natural Beauty should be preserved like a monument in nature.
Don't judge yourself too harsh my love, or someday you may find your soul in danger."
Amen.
— Noah Buschel
2 Responses to "AMAZON, WHAT ARE YOU GONNA DO WITH YOUR LIFE? by Noah Buschel"
Captain Says:
June 3rd, 2010 at 2:30 am

I am sure mad at myself for missing it in the Theater. I do love a good Music Film.
I was just talking to my friend today about how as a true movie goer their was always something to see, and if their wasn't you were able to see something awful and just have fun with it. Not no more its seems, and I am not even going to say because I am grown up or something, The people to blame are the filmmakers these days. Who mega-complex theaters filled with not a single movie that a true movie goer can even spend a hot summer afternoon with. They just don't seem to care anymore about anybody other then the ignorant mindless prince of persia watching kids.

Elias Andrinopoulos Says:
June 29th, 2010 at 12:06 am

I could not agree more, you hit the nail right on the head!

Movies are just becoming so boring. It's summer and there's nothing in the majors (with the exception of Chris Nolan's new one) I want to run out and see.

As for The Trunk Show, This film was amazing, all the more powerful for Neil's understated, yet powerful ragged glory raging on.
Leave a Reply