VOD REPORT
May 2011
Pardon last month's crabbiness, as we're not ready to call a moratorium on this monthly VOD report just yet. In order to preserve our sanity, we've decided to instead present a smaller selection of titles that we either 1) fully support, or 2) believe are worth writing about in some capacity. Moving forward, rather than arranging things by distributor, we're going to get alphabetical by title. [Note: As always, please let us know in the comments section below if you have any feedback on this particular column. Thanks!]
VIDEO ON DEMAND — MAY 2011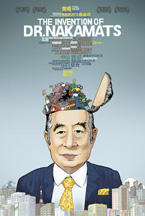 The Invention of Dr. Nakamats (FilmBuff) — Yoshiro Nakamats is a figure so gleefully compelling that the worst filmmaker in the world could produce a watchable portrait of him. Fortunately, Denmark's Kaspar Astrup Schroder knows what he's doing behind the camera, which makes The Invention of Dr. Nakamats a surefire crowd-pleaser. Super inventor Nakamats holds the world record for patents with over 3,300 (putting Edison's 1,000 to shame). These run the gamut from the floppy disc, to an aphrodisiac called Love Jet, to fuel cell karaoke. He has photographed and dissected every meal he's eaten for the past 34 years, he chooses cameras by the way they smell, and he does his best thinking while swimming underwater and on the verge of unconsciousness (taking notes with an underwater notepad that he also invented). Charming and quirky, Nakamats clearly relishes having the camera follow him around. If reality television profiled characters like this, I might actually sign up for cable. (Available on Amazon, Roxionow, iTunes, Vudu, Playstation, Xbox)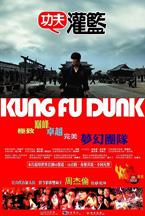 Kung Fu Dunk (Gravitas Ventures) — "Martial arts sports" (your Shaolin Soccer and Battlefield Baseball) are a fascinating sub-genre considering the recent trend in Chinese films to eschew the "Wire-Fu" flying and leaping moves made internationally popular by The Matrix and Crouching Tiger. Kung Fu Dunk doesn't really bother with that all too much. Our plucky young orphaned hero (The Green Hornet's Jay Chou as both lead and soundtrack) was found near a basketball court and raised at his local Shaolin temple—until his Master dies trying to master a forbidden technique (which comes up later). The new Master is a fat, evil gangster. Of course, Chou's kicked out of the temple and is throwing CGI cans perfectly into a trash can when another drunk finds him, realizes he can make a profit and boom goes the dynamite. By which the plot (orphaned Shaolin-trained kid uses superhuman feats of wire-jumps to play on local college basketball at "First University") begins! But his rival on the team is the older (and openly alcoholic) brother of his mousy crush. And then the final match, where tradition dictates that the 'evil' side have some advantage, is deliciously batsh*t: the ref is openly in the pocket of the gang lord, there's an interlude between Shaolin masters and a bunch of fouling basketball players and then Jay Chou literally turns back time. The sheer batsh*t over-the-top sentiments set to Chinese pop almost make us think of Endhiran. (John Lichman) (Available on Cable Video On Demand)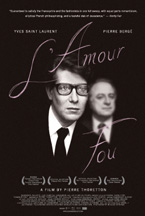 L'Amour Fou (IFC Films) — I wouldn't put Pierre Thorreton's remembrance of legendary French designer Yves Saint Laurent, as seen through the eyes of his longtime lover and business partner Pierre Berge, on the same shelf as Bill Cunningham New York or Valentino: The Last Emperor, yet as someone who has a natural aversion to the lavish, spoiled worlds associated with art and fashion, I found portions of the film to be quite intriguing. These almost always connect to Berge and the matter-of-fact manner in which he recounts his relationship's hardships, as well as Saint Laurent's personal battles with fame and addiction. Sparsely presented with minimal music, Thorreton treats this life and this relationship as if they belong in a museum. Maybe they do. (Available starting May 25 On Demand)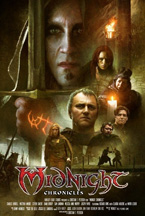 Midnight Chronicles (Gravitas Ventures) —Hard fantasy (i.e. dungeons, dragons and minotaurs—oh my!) is a tough sell on film, which is ironic considering the number of circle jerks that do incredibly well on screen (i.e., the Fast and Furious bro-mance-no-homo niche and Kate-Hudson-plays-herself sequel machine). Still, Midnight Chronicles is based on a role-playing game ala a Dungeons and Dragons setting. Izrador, a fallen god also conveniently nicknamed "The Shadow," is cast down to Eredane (i.e., the player's map) and begins one of them fancy "world takeovers" by stealing the magic of the land, enslaving the Dorn (i.e., humans) with Orcs. But this has long since happened and our focus is on Mag Klen, a Legate that hunts traitors (or those that are "pale") and is dispatched to Blackweir to investigate why it's taken a hundred years to build a church honoring Izrador. Once there we're thrown a dozen other characters ranging from an elf to farm-boys who're destined to be the saviors of all ma–Dornkind. But what's really impressive here is taking the LARP concept, best shown in Darkon, and expounding so richly on it (the Orc make-up alone) that watching this sans context is a gateway drug into wanting more. Of course, if you hated things like Xena you'd likely want to cast "F**k This Noise" and raise your ignorance to +10. If not, and if you can put up with a massive cop-out ending, get your robe and wizard hat on if only for this choice dialogue: "How could you confuse the love play of two novices with this heresy?" How indeed. (JL) (Available on Cable Video On Demand)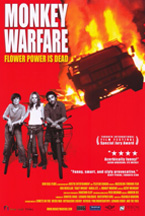 Monkey Warfare (Film Movement) — It has been way too many years since I first saw Reg Harkema's charming comedy about romance and revolution, but in a blog post from way back then I wrote: I loved it. Don McKellar's performance made me feel like I was watching Elliott Gould in The Long Goodbye. Charisma for days. And the fact that they shot this film on the Panasonic DVX-100A is incomprehensible to me. Granted, they used 35mm lenses, but I still can't believe it. Now that it's 2011, that DVX talk is quite humorous, but I stand behind my admiration for such a cinematic low-budget Canadian production. To be honest, the only other thing I remember about Monkey Warfare is that Harkema uses some old Leonard Cohen, but if these vague memories are to be trusted, it's about time this film has been made available to us in the States. (Available on Comcast, Time Warner, Cox, Bresnan, RCN, Brighthouse, Verizon, Charter, etc.)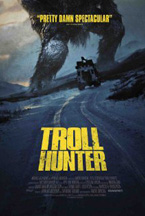 Troll Hunter (Magnolia Pictures) — With Troll Hunter, Norwegian director Andre Ovredal delivers an electrifying and hilarious thrill-ride that feels like an instant mockumentary classic. But that's the problem. To call Troll Hunter a mockumentary is to belittle it somehow, for while it certainly fits within those storytelling parameters—i.e., it's photographed from the video camera perspective of a group of students who convince a gruff poacher to let them follow him around in the gorgeous Norway wilderness—it is so much more than that. In fact, Troll Hunter plays just as convincingly as a straight-up monster movie (ala The Host), albeit a much funnier one (and even though it takes some time for those monsters to appear). To be honest, it would be best to watch Troll Hunter in a jam-packed movie theater with an eager audience, but if you can't wait, or it looks like it isn't coming to your city after all, be sure to take the plunge and watch it at home. While it might not be as raucous an event on the small screen with only a few folks in the room, the exhilarating thrill of the achievement cannot be denied. This is a fun movie. (Available On Demand everywhere)
FOR MORE VOD INFORMATION BE SURE TO CHECK OUT THE FOLLOWING:
Filmmaker Magazine's May VOD Report
On Demand Weekly's May On Demand Preview
***PERHAPS MOST IMPORTANTLY, THESE TITLES HAVE RECENTLY ADDED TO NETFLIX INSTANT***
11/4/08
Beyond the Mat
Bunny And The Bull
Cat People
Cecil B. Demented
Come Undone
Cookie's Fortune
Cool as Ice
Dear Zachary: A Letter To A Son About His Father
Double Indemnity
The Dry Land
Easy A
Etienne!
eXistenZ
Fear
A Film Unfinished
Four Lions
The Front Page
Frontrunners
Gentlemen Prefer Blondes
The Gingerbread Man
Gridlock'd
Guy And Madeline On A Park Bench
Harold and Maude
Heaven Can Wait
Howard the Duck
Inspector Bellamy
Jesus' Son
Johnny Got His Gun
The Kid Stays in the Picture
Leaves of Grass
The Little Fugitive
Marwencol
Not Your Typical Bigfoot Movie
O.C. and Stiggs
The Panic in Needle Park
Purple Rain
Raging Bull
Safe Men
Sid & Nancy
A Somewhat Gentle Man
Summer Lovers
They Killed Sister Dorothy
They Live
To Die For
Tree's Lounge
Treeless Mountain
Wet Hot American Summer
When We Were Kings
White Material
Wild Man Blues
William S. Burroughs: A Man Within
Working Girl
Y Tu Mama Tambien
One Response to "VOD REPORT"
Kwesi Says:
May 14th, 2011 at 9:59 am

 So glad you all got back to recommending movies on Netflix Instant! That was my favorite.
Leave a Reply