VOD REPORT
March 2011
KEY:
— A three-star marking (***) equals a very high recommendation.
— A two-star marking (**) equals a high recommendation.
— A one-star marking (*) equals a recommendation.
— A no-star marking is reserved for those titles that are worth mentioning in some way, shape, or form.
— [Have Not Seen Yet…] is self-explanatory.
VIDEO ON DEMAND — MARCH 2011
This Movie Is Broken — If you're a fan of offbeat Canadian films that feature Broken Social Scene, then this is the VOD pick of the month for you! (Available on all Cable VOD and iTunes starting March 15)
The following titles are available on Movies on Demand on Comcast, Time Warner, Cox, Bresnan, RCN, and Brighthouse:
New: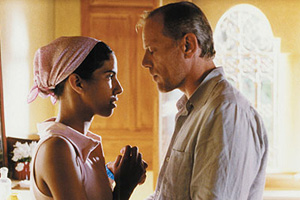 *** Raja — Raja is a 19-year-old orphan who lives in an impoverished apartment in modern day Marrakesh. Working as a prostitute and giving most of her money to her unemployed boyfriend has taken too much from her. When she joins her best friend and a group of girls to work in a rich Westerner's garden, Raja finds herself the target of the bored, wealthy, and flirtatious Fred's affection. The wealth, power and class disparities cause obvious manipulation and exploitation, however what is most exciting about this movie is how those overarching issues seem to be pushed to the side by the emotional honesty and small connections between characters. The conversations between Raja and Fred, with the help of linguistic misunderstandings, create complicated and comedic journeys through the characters minds. Raja is a total gem of a movie. (Lauren Kinsler)
** Illegal — Illegal opens with a seemingly sweet moment between a mother and a child, but as it plays out something doesn't feel right. Maybe it's the spy-like hand-held shots or the ominous music, but as we soon find out, the beautiful relationship between Zina, a Russian born illegal immigrant and her son Ivan will soon to face it's biggest challenge. When Zina is selected during a random police screening, she is placed in a family detention center full of immigrants. While there, she fights like hell to keep her identity private and save her son from deportation. One scene that stands out is when fourteen-year-old Ivan takes the bus to the detention center to try and help. Zina, knowing he is coming, waits at a window all day, hoping he will look up once he gets off the bus. He does and through body language she is able to stop him from going inside. There is little humor in Illegal and the intensity is overwhelming at times, but so is the situation. This is an emotional look into the inhumane ways in which illegal immigrants are treated, and the bond between a mother and her child that can conquer fear. (LK)
Skeletons — [Have Not Seen Yet But Wanna]
Still Showing:
** Marion Bridge — With family secrets constantly lurking in a small Nova Scotia town, there's nowhere to hide. Marion Bridge explores the psychological issues just below the surface of three sisters who have come together to help care for their dying mother. Agnes, the youngest, has filled her life with bouts of drug and alcohol abuse and sporadically been in and out of the family's life (not unlike Rachel Getting Married's Kym). However this time, Agnes is convincingly sober and is ready to face her secrets even if her sisters resist. The acting in Marion Bridge shines as the subtle, slow-moving plot gives you plenty of time to connect to each character. Also keep an eye out for a 15-year-old Ellen Page, who makes a strong film debut. (LK)
Lovers In A Dangerous Time — [Have Not Seen Yet But Wanna]
A Call Girl — [Have Not Seen Yet But Wanna]
Bad Day To Go Fishing — [Have Not Seen Yet But Wanna]
The following titles are available on Movies on Demand on Verizon Fios & Charter Cable systems nationwide:
New:
Lovers In A Dangerous Time — [Have Not Seen Yet But Wanna]
Still Showing:
*** Come Undone — Anna and Alessio 's relationship in Come Undone is adorably calm and content. She is a top employee at an insurance company and he's a softhearted handy man who would do anything for her. After seeing Anna's sister give birth, they agree to try and have a baby themselves. Soon after, Anna meets Domenico, a waiter as well as a father and husband. Their strong sexual connection results in an affair that is passionate but seemingly impulsive. The result is raw and jolting for the audience as well as the adulterers. Director Silvio Soldini does an incredible job of showing the real effects of an affair on the unsuspecting families. There is nothing glamorous about this film or anything that happens in it and the rawness is incredibly powerful. Rather than glorify their affair, Soldini shows us the often-unseen parts: the hard work of balancing two schedules, keeping up with lies, the anger developing between the lovers. Come Undone is difficult to watch as we see the characters continue down dark paths, but that realness is what makes Silvio's film great. (LK)
*** Samson & Delilah — From the opening strains of Charley Pride's "Sunshiny Day," set to a slow-motion shot of an Aboriginal teenager waking up in bed only to immediately begin huffing gas out of a can, Samson & Delilah lets you know that it's going to be different. It is. Written, directed, and photographed by Warwick Thornton on 35mm, this exhilarating feature-length debut isn't just an assured, touching, and original tale of young love in the Central Australian desert. It's a very precious reminder of the transporting power of cinema. Samson & Delilah will make you fall in love with movies all over again. You can also buy it on DVD.
*** Only When I Dance — An inspiriting documentary about two exceptional teenagers. Coming from favelas in Brazil, Isabela and Irlan have the same dream: to make it as a professional ballet dancer. With an eccentric fairy godmother/dance teacher leading the way, they take a journey through highs and lows in pursuit of an international ballet career. The most interesting part of this film is the intimate portrayals of the dancers' parents. Isabela's family, although steeped in poverty, does whatever it takes to send her to competitions. Irlan's father, although skeptical of his dancing interests at first, is his biggest supporter, even getting a tattoo in honor of his son's talent. Only When I Dance tells a beautiful story about family and perseverance and if that doesn't do it for you, the beautiful dancing will. (LK)
A Call Girl — [Have Not Seen Yet But Wanna]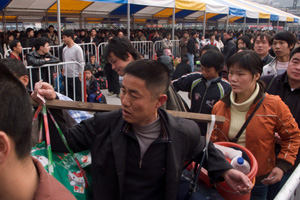 *** Last Train Home — To take a line from 'Ye, "I'ma let this review finish, but I did not dig this film!" So why is this a must-see if the critic in question is a hater? Simply put, Last Train Home is a must-see experience for documentary and capturing culture (much like Zhao Dayong's Ghost Town—not the one with Ricky Gervais). Concocted by Lixin Fan (associate producer and sound recordist for Yung Chang's Up the Yangtze), Last Train Home follows the Zhang family's trip back to the countryside for the holidays. Now factor in the other hundred million folks traveling and you'll witness some of the most spectacular scenes that you'd beg yourself to be staged: literal hordes coming down tunnels to catch trains, clogging transportation systems for days as people simply want to get home. From the parents we quickly switch gears to the daughter, examining how she wants out of the country and into the city to work—despite it being a similar job to her parents, who are desperate to keep her in school. This is a tough flick, but one of the best docs from last year. So why did I not dig this film? Who cares—this is a must-see. We can talk about it after you watch. I'll be here. (John Lichman) [Ed. Note: For another perspective on someone who did love this film completely, read the official Hammer To Nail review right here.]
*** The Man From Nowhere — Is it wrong that my favorite foreign export over the last decade has been the "Korean Revenge" thriller? A genre bred from exploitation has been elevated to potentially crowning new auteurs when it comes to execution. Tae-sik Cha (Won Bing, in a complete turn from his Mother role) is the silent owner of a pawnshop with a shady (i.e. bad-ass) past who in shades of Leon befriends his neighbor's daughter. Said neighbor tries to screw over a drug deal between Chinese and Korean gangsters and forces Tae-sik to reveal his past as he's dragged into the mix so he can save her daughter. Lee Jeong-beom's trip to revenge land is kept tight and borrows a few key character concepts (orphans used to peddle drugs, the bad guy's heavy hitter—Thanayong Wongtrakul—with a heart of gold) to grand effect. There are moments that threaten to beat us down harder than Sympathy for Mr. Vengeance, but Lee isn't in the market for nihilism it appears. Must-see sequences, however, are the final knife fight between Bin and Wongtrakul, which culls ideas from First Person Shooters and the criminally underrated knife scenes in The Hunted. (JL)
** Fathers of the Sport — Boiling down the history and mythology of any sport is about storytelling and "way back when." This is what drives Xavier Mitchell's doc, which spends a minute explaining the how and why of basketball before diving into the meat of street ball and the characters behind New York's legendary Rucker Park. Scenes of urban decay and reality briefly, sans commentary, unfold as Joe Hammond is followed to a Checks Cashed while being praised by his peers to Pee-Wee Kirkland fondly recalling his fur coats and Rolls-Royce—and the sawed-off shotguns he kept on hand for his off-court "job security." There's rampant overuse of saturation filters, but for the sake of nostalgia and seeing Dr. J footage, folks would probably put up with star wipe after star wipe. (JL)
* The Little Traitor — Comparing something to the cult Avant-Retarde midnight masterpiece The Room is a weak crutch, but I'll be goddamned if The Little Traitor isn't a worthy candidate. Based on Amos Oz's novel A Panther in the Basement, Proffy is a child constantly running around 1947 Palestine, and one-third of the F.O.D.—"Freedom or Death," as the chant between him and his friends goes. Complete with eccentric rooftop neighbor Mr. Gihon chastising his chickens ("Mila! What a good hen you were today! You gave me three brown eggs! You make all the noise, Olga and give me no dang eggs!), Proffy is just a child (loosely based on Oz) who befriends a British soldier (Alfred Molina) when breaking curfew. From there, we learn life lessons and cultural divides that weigh heavily upon the clichés that cultures experience when bullfighting one another for the sake of biography. (JL)
* Satin — Ah, Las Vegas, home to countless sob stories about "making it" intermingled with alcoholism, failure and life lessons by way of lounge singers! At least, that's what we get with Jack Satin (Hamilton von Watts), a down-on-his-luck "genius" singer with a streak of failure, who is run out of Vegas after taking the art of awkward banter to new heights ("Bring back the girls!" "Hey, go fuck yourself buddy, all right?"). He winds up in the aptly named-ex-machina Lost Springs where a kindly bar owner-cum-waitress (Melissa Joan Hart) and local mechanic with secret music past (Robert Guillaume!) is waiting to educate his ignorant ass. Some time post Karaoke magic, Satin is thrown into the incredibly intricate "The Circle" to physically re-learn what it is to make music (seriously, it looks like a SAW reject), has a training montage and then deals with his past and blah blah blah here's a conflict resolution now here's a conflict resolved! Anyway, I'm burying the lede here: before we're even a half hour in, the best part of this is Michael Cudlitz (Southland) as an angry ex-boyfriend with an amazing "Bang Your Head" cover. (JL)
New:
Park Benches [Have Not Seen Yet] (Available starting March 11)
Cracks [Have Not Seen Yet But Wanna] (Available starting March 18)
They Are Out of Business [Have Not Seen Yet] (Available starting March 30)
Still Showing:
Peep World (Available March 24)
The Time That Remains [Have Not Seen Yet But Wanna] (Available until April 5)
** The Housemaid (Available until April 26)
* Kaboom (Available until April 26)
New:
Wrecked [Have Not Seen Yet] (Available on iTunes and On Demand until June 1)
Choose [Have Not Seen Yet] (Available starting March 16)

Still Showing:
We Are What We Are (Available until May 23)
Exorcismus [Have Not Seen Yet But Wanna] (Available until April 5)
Tetsuo: The Bullet Man (Available until April 9)
Dream Home (Available until May 9)
New:
Ceremony [Have Not Seen Yet] (Available starting March 4)

Still Showing:
Black Death [Have Not Seen Yet] (Available now)
Vanishing on 7th Street [Have Not Seen Yet But Wanna] (Available starting January 7)
Night Catches Us [Have Not Seen Yet But Wanna] (Available through Xbox and Amazon)
Client 9: The Rise and Fall of Eliot Spitzer [Have Not Seen Yet But Wanna] (Available On Demand Everywhere)
Netflix Instant
Here are just a few of the standout titles that have been added to Netflix Instant in the first two weeks of March alone:
8 Mile
Anywhere, USA
Calvin Marshall
Car Wash
Encounters At The End of the World
Fargo
Helena From The Wedding
The Living Wake
Manhattan Murder Mystery
Monsters
The Naked Gun
Night Catches Us
Paper Moon
Santa Sangre
That Evening Sun
Undertow
Wild At Heart
The Year My Voice Broke
Lots of movie are yours for the renting and watching online at Sundance Now, including a discount this month on several titles that previously screened at the SXSW Film Festival (it is March, after all). They are:
Antonio Campos's Afterschool (code: AFTERSXSW)
Joe Swanberg's Hannah Takes the Stairs (code: HANNAHSXSW)
Dia Sokol's Sorry, Thanks (code: SORRYSXSW)
Other SXSW alumni films (though not discounted) include Greg Takoudes's Up With Me, the Zellner Brothers' Goliath, the Nee Brothers' The Last Romantic, Bryan Poyser's Lovers of Hate, and the list goes on and on.
New:
The Imperialists Are Still Alive! [Have Not Seen Yet But Wanna] (Available starting March 2)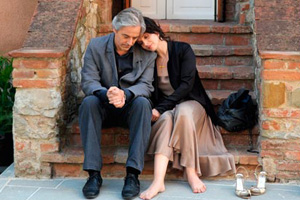 ** Certified Copy — Watching Abbas Kiarostami's beguiling romantic comedy reminded me of how I felt after emerging from Alain Resnais's Wild Grass—i.e., I'm not sure if I had just witnessed the work of an assured master or a senile, out-of-touch grandpa. What Kiarastomi is doing here is quite daring, as he toys with viewer expectations in countless ways. But this was one of those experiences in which I found myself grappling with questions that I'm not sure Kiarostami meant for me to be grappling with. For example, were the mid/late-film outbursts of opera star William Shimell so bad that the performance of this non-actor was extremely cringe-worthy, or was his character actually faking being angry, at which point his performance becomes quite impressive? Also, was Juliette Binoche's character meant to come off as borderline schizophrenic, or charmingly French? Or was this all part of Kiarostami's mischievous grand plan? There are some incredible one-takes here, and the film definitely had my brain's gears grinding, but I have to confess to feeling skull-f**ked into confusion by it. (Available starting March 23)
Still Showing:
*** Cold Weather — Reuniting with Quiet City's Cris Lankeneau, Aaron Katz and his team (Brendan McFadden, Ben Stambler) return to the Pacific Northwest environs of Katz's debut feature, Dance Party USA, to tell the story of a brother-sister reunion (Lankenau and Trieste Kelly-Dunn) that begins as a subtle character study but unexpectedly morphs into a full-on detective thriller. Working once again with cinematographer Andrew Reed, who maximizes the potential of the Red camera here, Katz uses a muted color palette, a slow-moving camera, and his own sharp editing to create a rising air of tension that boils over into the second half's action-packed sequences. Cold Weather is a deft, original addition to the noir genre and is another impressive creative statement by the uber-talented Katz. (Available now)
* Heartbeats (Available until June 23)
Lastly, be sure not to forget about Cinemax On Demand and HBO On Demand, where many other great movies are yours for the taking on a constantly revolving basis.
One Response to "VOD REPORT"
Leave a Reply