PAULINA
Boundary Pusher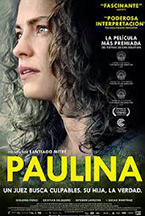 (Santiago Mitre's sophomore film Paulina won the Nespresso Grand Prix Award. It's available in limited release starting June 23.)
Finally receiving a limited theatrical release after winning the Nespresso Grand Prix Award and the Fipresci Award at Cannes in 2015, Santiago Mitre's Paulina is a purposefully frustrating film about Paulina (Dolores Fonzi), an idealistic lawyer who opts to temporarily abandon her privileged life in Buenos Aires to put her political beliefs into action by teaching impoverished and indigenous teenagers in a remote Argentinian village near the borders of Paraguay and Brazil. From Paulina's opening conversation with her father (Oscar Martinez), we quickly identify her as a staunch and highly motivated progressive who will never change her mind, no matter what. Paulina's father, who is certainly more conservative than his daughter, is concerned about this dramatic change in her career trajectory as well as her personal safety.
Paulina's father is not the only male who challenges her perspective on social justice; her boyfriend (Esteban Lamoth) also repeatedly questions her judgment. Additionally, it seems like every male in the village is working against Paulina one way or another, despite her efforts to help the community. Armed with very strong opinions about what is best for the women around them, Paulina is immersed in an unabashedly patriarchal society, one that is inherently violent, vindictive, and vengeful.
A modern update of Daniel Tinayre's La Patota (1960), Paulina functions as a political parable that repeatedly tests (and punishes) its protagonist's fortitude to see just how far she will go to see what her father refers to as a "romantic hippy fantasy" through. From the get-go, Mitre's strategy is for the audience to formulate their own opinions of Paulina, as well as the community she immerses herself in, based upon their own political ideologies. As the narrative progresses, Mitre finds ways to make it exponentially more challenging for the audience to support Paulina's decisions.
Whether it is Paulina's unwavering politics, sheltered naivety, or uncompromising stubbornness, what propels her is up for us to pontificate. Mitre has no intentions of telling the audience what to think, he wants us to come to our own conclusions. What chances would you take to make a positive difference in impoverished people's lives? What would you do to prepare yourself for such actions? What types of scenarios would dissuade you from carrying on with the plan?
For those who do not wish to play along with Mitre's deliberately detached approach to seemingly contrived scenarios, Paulina might be a bit too infuriating to endure, especially the emotional aftermath of one particularly challenging moment in Paulina's timeline. However, with some effort from its audience, Paulina can be an enticingly intellectual and psychological exercise that challenges progressives on how far they would go to see to the success of their cause.
– Don Simpson (@thatdonsimpson)
Leave a Reply