OF ALL THE THINGS
Stranger Than Fiction, Indeed
Of All the Things is one of those imaginative works of fiction that tells a story too far-fetched to be true. In it, a middle-aged real estate broker living in Boca Raton, Florida, has a magnificently strange dream one night: in his younger years, he was a chart-topping songwriter and producer who churned out an impossibly wide array of Billboard Top 100 hits, including "Rhinestone Cowboy," "Ain't No Woman (Like The One I've Got)," "Baby Come Back," "Nightshift," "We Built This City," and many, many more. But that's only the beginning. Being that this is fiction, filmmaker Jody Lambert throws caution to the wind and comes up with an even more outlandish storyline. In the early 1970s, this successful behind-the-scenes artist recorded his very own album, and while it flopped in America, it found a wildly successful home in the Philippines. One of the songs, a tender ballad called "Of All The Things," was so beloved that it went on to become the country's unofficial Valentine's Day song. Thirty-odd years later, this sixty-year-old musician of yore accepts the offer of a Filipino promoter and travels to the Philippines in order to perform songs from this obscure album—as well as his more recognizable hits—for the very first time. First-time feature director Lambert adds a clever dimension by shooting this ridiculous fairytale in a convincing documentary-like manner.
Wait, what's that, you say? Come again? It's not a work of fiction? It's an actual documentary? We're talking about the movie called Of All the Things, correct? Are you sure? You mean to tell me that Dennis Lambert is a real person who did co-write and produce all of those songs? His obscure solo album did become a sensation in the Philippines? That tour did happen? Pardon me while I step outside for a few hours in order to try to wrap my head around that one. Don't be surprised if I never return.
(Several hours later.)
Okay, I'm back. I feel better now. Although the world still feels jarred and slanted.
In all seriousness, Of All the Things is a spectacularly strange ride, a story so preposterous that it can't be anything but true. Or, to put it another way: if you tried to make a fictional feature out of this material, no one would believe it. It screens tonight as part of the IFC Center's Stranger Than Fiction series, hosted by Thom Powers, and though Powers has always chosen interesting work, when placed directly underneath the series' title, Of All the Things might be his most appropriate selection of all.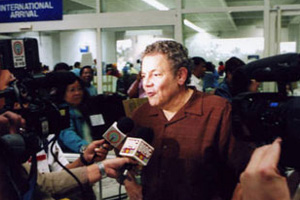 One cannot deny that Jody Lambert—who is the son of Dennis and who is greatly responsible for his father's decision to take the plunge and travel to the Philippines—has been given a precious gift with this material. But the tone Lambert chooses—a refreshing dose of sincerity splashed with humor and breeziness— makes the ride all the more enjoyable. As the son of the film's subject, he's allowed to have fun with the situation, to make lighthearted jabs at the absurdity of it all. But underneath that is an admiration and love for his father that keeps the journey feeling sincere. If Dennis weren't such a vital contributor to the pop music canon, or if this were a film about a minor tour through clubs and coffee shops in the South, it might feel like a home video document, a forgettable love letter from a son to his father. But it never spins in that direction. In fact, the son-making-a-film-about-his-father angle is merely a minor, pleasant layer that injects the film with a welcome dose of heart and soul.
In a deeper sense, Of All the Things is a story about second chances. A child prodigy, Dennis Lambert was entertaining audiences in the Catskills before he was ten years old. By the time he was twenty, he was well on his way to becoming a successful songwriter and producer. Fatherhood and the less-than-stellar reception for his solo album pushed him away from the industry into the real world, where his days as a musician became a vague, distant memory. But in a miraculous turn of events, the Philippines wouldn't let the dream die so easily—more specifically, the concert promoter who recognized the importance of Lambert's music and continually begged for him to perform there. After finding every excuse imaginable, Lambert listened to his wife and son and decided to take the plunge. Certainly none of us can relate to what Lambert must have been feeling when he arrived in the Philippines, but to witness him reclaiming the spark he thought was forever extinguished should provide a jolt of inspiration to the stiffest viewer. At the very least, it will provide a hearty jolt of entertainment.
In a much more superficial way, the film is a hilarious example of that inexplicable concept of random, foreign success that one might coin "The Hasselhoff Theory." There are countless instances of an American writer or filmmaker or musician or artist whose work is met with silence and/or derision in the States but who finds success in other parts of the globe. Lambert's situation is a particularly surreal one, yet it speaks for all those instances when against all reason and logic, an artist finds recognition for his or her work. Of All the Things is about many different things, but more than anything, it's a testament to the complete and utter absurdity that is life on this crazy, beautiful planet.
— Michael Tully
(As mentioned above, Of All the Things screens at the IFC Center tonight as part of the Stranger Than Fiction series, and continues to play festivals all over the globe. Visit the film's official website for details.)
Leave a Reply