ANGEL
Things We Do For Love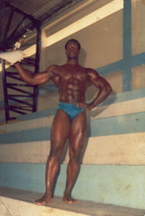 (Angel world premiered at the 25th BFI London Gay and Lesbian Film Festival and just screened at Outfest 2011. Go here for information related to the Outfest screening. It will also be screening at the New York International Latino Film Festival in August.)
In a home video made for his family in Ecuador, Angel, a towering, black Achilles with an impressive pair of womanly tits and enhanced cheekbones, points out the Moulin Rouge and the money-transfer shop next to it. "We send the money from that agency over there, the little money you make working here." There's a charge of emotion in his words, and as he tries to assure his family that he's just showing them one of Paris' tourist attractions, his voice breaks into a jarring falsetto and he smiles a little child-like smile. His sister Blasina breaks in, sending kisses, but Angel interrupts: "No kisses for anyone—nobody sends me kisses. Goodbye, cut!" So begins Angel, Sebastiano D'Ayala Valva's profile of this literally larger-than-life, complex and fearlessly exposed former boxer turned prostitute.
The crackling subtext in the opening scene catapults us into Angel's life. D'Ayala Valva juxtaposes an old photo of Angel, his stunning physique poured into a military outfit, with footage of him going out to work the streets as "Mujeron" ("Big Woman"), his uber-fierce drag persona, turning into a kind of mythological sexual being under the streetlights (Mujeron was one of the four Paris trannie hookers in d'Ayala Valva's previous doc Transvestites Also Cry). He confides that he has a "husband" to support, and that husband is his mother.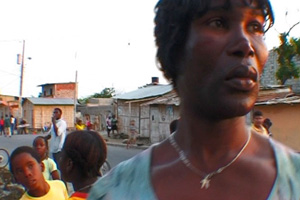 Angel has just gotten his French residence permit, and is able to return to Ecuador to visit his family after four years. In a dirt-poor barrio of Guayaquil, his homecoming is the polar opposite of the familiar gay story where family members sit together uncomfortably and things are left unsaid. He thrusts his tits out like a status symbol, and proudly shows off oversize photos of his gay life in Paris. His family is surprisingly unfazed, and his sister Pricela overflows with genuine, unconditional love: "Even if he's a drug addict, a thief or a faggot, my brother is my brother!" Angel's brother Victor Hugo's reaction is even more interesting: "He's like a mother; a model mother. Angel cares about us all. If he wasn't gay, he wouldn't care so much."
Their actual mother isn't quite as cuddly: she reveals that she relies on Angel as her only source of support, but her gratitude feels prickly, and she makes it clear that, unlike her other children, he has no kids of his own, so she expects him to send her more. When she refers to him as a "maricon" (Spanish for "faggot") it isn't clear if it's just the local parlance or a certain level of disdain.
Out on the street, Angel is eager to claim his space, giving a rude tongue-lashing to some trash-talking children, and comparing tits with an old friend, who earnestly (and hilariously) assures him "some people change when they leave and make money—you haven't changed a bit!"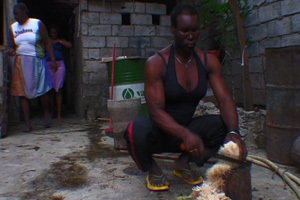 D'Ayala Valva shows the strange effects of the flow of money from migrant workers back to Ecuador—on the one hand dirt roads getting paved, on the other hand a kind of ugly materialism among people sponging off their relatives working abroad. And a pragmatic acceptance of prostitution and homosexuality, as a means of survival. Even back at the boxing gym where Angel used to compete, nobody bats an eye at his new appearance.
Early on Angel talks about being ambitious, not to become rich himself, but to better his family. The tits he wears so proudly seem to be a symbol of that ambition. But as the film progresses you sense that he might in fact be buying his family's love and respect with the money he gets for selling his body, as foreshadowed in the opening scene. It could be considered a case of what's been called "family pimping."
Angel builds to a devastating finale, with a series of harsh body blows to Angel's trust in his family, revealing further, fascinating layers to his psychology and the family ties that bind him. D'Ayala Valva has created a film of great scope, with overlapping insights into the sociological effects of the migrant worker phenomenon and the evolving role of gays within families and in Ecuadorian society—and more than that, a thoughtful and sensitive study of a striking character, driven to a life of extremes.
—Paul Sbrizzi
2 Responses to "ANGEL"
DUCHESS SID Says:
June 23rd, 2018 at 12:01 am

PLEASE UPDATE US ON ANGEL

Belinda Says:
March 17th, 2019 at 11:02 pm

Duchess Did, I too would like an update on Angel. He really has a good heart.
Leave a Reply