THE MIDNIGHT SWIM
Sisterly Love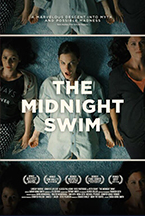 (Writer-director Sarah Adina Smith's feature-length debut The Midnight Swim has created a mighty buzz on a tiny budget. At once a familiar set of tropes and filmmaking techniques, Smith mixes it up by thinking outside of the box. The film is now live in theaters and on VOD)
Three somewhat estranged sisters – Annie (Jennifer Lafleur), Isa (Aleksa Palladino) and June (Lindsay Burdge) – arrive at the cryptically alluring Spirit Lake to contemplate the future of their deceased mother's (Beth Grant, in flashback) lakefront property. Annie wants to sell their mother's home and move on; Isa wants to turn it into a creative cooperative in memoriam of their mother's environmental legacy. June, the youngest sibling, would rather just observe her sister's conversations through the lens of a camera rather than participate in the proceedings.
The ever-presence of June's handheld POV camera is justified by the fact that she is working on a personal documentary project, it also places June firmly in the role of an emotionally disconnected observer. Once things start to get really spooky, June coldly watches as Annie and Isa presume the polarized roles of sceptic and believer. As the story progresses, the three distinctly disparate positions of the siblings become all the more apparent. They are each deeply scarred by the mental torment doled out by their mother. Just as Spirit Lake appears to be bottomless, so is the psychological impact on the siblings; their pasts have therefore heavily shaped their present personalities. Their mother fully immersed herself into environmental causes, sacrificing her relationship to her daughters, and it is not without irony that she [presumably] died while diving in the very lake that she fought so ardently to protect. That said, the sisters still find ways to pay homage to their mother's feminist tenacity and independence, such as with their goofily brilliant lip-sync to "Free to Be… You and Me" (The New Seekers, 1972).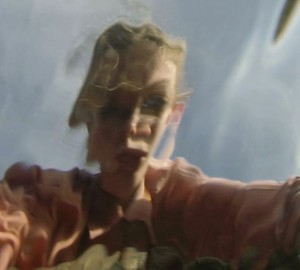 Writer-director Sarah Adina Smith's feature-length debut, The Midnight Swim, studiously observes the interchanges between the sisters, adopting the same passive perspective that June purports to take. Smith's film serves as a psychological analysis of the siblings' chemistry and conflict, accentuated tenfold by an uncanny level of naturalism presented in Jennifer Lafleur, Aleksa Palladino and Lindsay Burdge's performances. These three actresses fully and completely encompass their sisterhood, it is almost inconceivable that they are not truly siblings in real life.
The Midnight Swim plays like an anti-horror film, as Smith cleverly utilizes traditional horror film tropes to comment on the genre while simultaneously aping it. Smith purposefully permits her protagonists to make irresponsible choices which always seem to lead to frightening predicaments, such as drunkenly attempting to summon the mythical Seventh Sister and going for late night swimming expeditions in the menacing lake. It is also fascinating that while the story does introduce several supernatural and mythical elements (including a reference to the Seven Sisters of Greek mythology), Smith neither confirms nor denies the legitimacy of those plot points – they serve as just that, purely plot points.
Perspective and the directorial slight of hand play a significant role in The Midnight Swim. While the found footage narrative device has all but worn out its welcome with most audiences, since it is often used as a cover-up for shoddy production quality, the approach certainly finds a legitimate purpose in The Midnight Swim. There may be no apparent reason as to how and why we are able to watch said footage, but we can assume whoever edited it did so with professional panache. For better or worse, this is a found footage film that is intricately constructed like a staged production, with perfectly timed reaction shots and all; and even though The Midnight Swim was made on a micro-budget, cinematographer Shaheen Seth's hauntingly unsettling imagery and composer Ellen Reid's chilling soundscape gives the allusion of a significantly more elaborate production. While The Midnight Swim may not abide by the traditional scare tactics of horror films, the eerie atmosphere created within this cinematic universe is nothing short of unnerving.
– Don Simpson (@ThatDonSimpson)
Leave a Reply