STREAMY WEEKEND 1
If you haven't signed up for our weekly newsletter, in which we recommend one film every Friday afternoon that is yours for the streaming through Netflix Instant, please be sure to do that by clicking on "Our Newsletter" in the upper right-hand corner of the site's main page.
Today, we thought we'd deliver a bonus treat by providing a list of films that were added to Netflix Instant this very week. Of course, you all probably have incredibly exciting things to do this weekend, but just in case your plans fall through, fear not. And if the Rapture does, in fact, rear its deadly head, well, then, what better way to go out than with this movie…
***PICK OF THE WEEK/MONTH/YEAR/CENTURY/ETERNITY***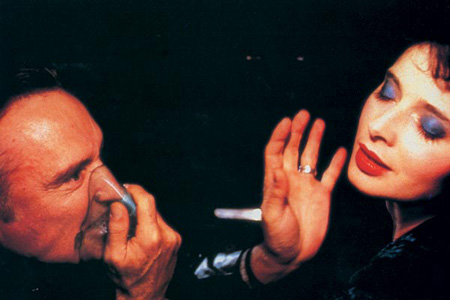 David Lynch's Blue Velvet
RECOMMENDED (In No Particular Order)
HAVE NOT SEEN BUT REALLY/KINDA/MAYBE/SORTA WANNA
One Response to "STREAMY WEEKEND 1"
Chase Says:
June 3rd, 2011 at 3:35 am

I visit HtoN every day and have decided I should comment more. By more, I mean actually comment. I love HtoN!!
Leave a Reply