HOME VIDEO PICKS
5/1/12
It's a thin week for home video releases so we'll keep this short but sweet!
Pick of the Week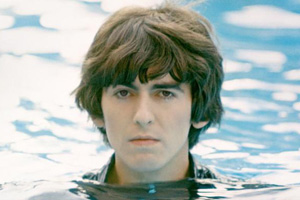 George Harrison: Living the Material World (UMe) — I figured I had a lot to learn about the subject, being a Beatles fan but not a deeply knowledgeable, read-every-biography, hunt-down-every-alternate-take devotee. As it turns out, I was already familiar with most of the areas covered in Martin Scorsese's documentary, but the film was a revelation nonetheless. Most of the major topics you'd expect are here—the young guitarist's salad days, the explosion into worldwide fame, the discovery of Indian music and spirituality, the band's dissolution, the making of the solo masterpiece All Things Must Pass, the Concert for Bangladesh, the formation of Handmade Films—as are most of the interview subjects: Paul and Ringo, Harrison's widow Olivia and son Dhani, George Martin, Eric Clapton, Patti Boyd, and Phil Spector, among many others. Scorsese's direction here mainly consists of editing—almost all the interviews, so far as I can tell, seem to have been farmed out to others, and the rest is archival footage of various kinds. But the interviews are candid, often funny, and deeply touching. And the footage, much of it previously unseen by the public, is remarkable, whether it's Ravi Shankar giving Harrison sitar lessons or Paul and George tearing into each other during a late Beatles studio session. Scorsese's touch is evident in the dazzlingly deft cutting, the obvious love of the music and admiration for the man who made it, and the themes that recur in both artists' lives—religion, most notably, as well as the dark side of public acclaim: it was only after Harrison finished speaking about the impact John Lennon's assassination had on him that I remembered, with a start, the director's own connection to that terrible day. Available on DVD
and Blu-ray
, and a Special Edition (2DVD/Blu-ray/CD/96-Page Book
). (Nelson Kim)
Have Not Seen Yet But Really/Kinda/Sorta/Maybe Wanna
Haywire (Lionsgate) — Available on DVD
, Blu-ray
, and at Amazon Instant
.
Cirkus Columbia (Strand Releasing) — Available on DVD
.
W.E. (The Weinstein Company) — Available on DVD
and Blu-ray/DVD Combo + Digital Copy
.
One Response to "HOME VIDEO PICKS"
Fortapachefilm Says:
May 5th, 2012 at 4:08 am

Great post!
NYU Alumn Martin Scorsese has donated a signed poster to help bring this film to life, check it out! http://kck.st/HyppbC
Leave a Reply