HOME VIDEO PICKS
2/15/11
This is one of those weeks when the amount of home video releases is comparatively slim to others, and of those that appear to be the most worthy, I just ain't been able to catch up with 'em yet. Either way, make sure these are on your home viewing radar if they weren't already.
Recommended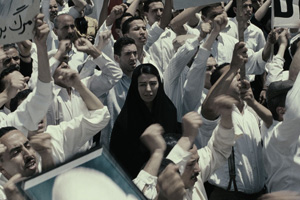 Women Without Men (Indiepix) — Shirin Neshat's acclaimed film is based on a novel titled Women Without Men by writer Shahrrnoush Parsipour. The story follows four female characters living in a charged pre-Islamic revolution moment in Persia. It's a moment in time where the Persian people are fighting for their freedom and their culture while watching their country fall. The main characters—Zarin, Munis, Fakrhi, and Faezeh—are each faced with a moment that leads them through a transformation which eventually brings them together in a very magical orchard. The film's story is told in many layers as magical realism takes over and we see what is occurring on three or four levels at once. While the women go through their personal transformation the outside world slowly pushes in until one day it arrives at their sanctuary, forcing them all to ultimate moments of revelation. Read Alexandra Roxo's HTN conversation with Neshat, then buy it on DVD
.
Have Not Seen Yet But Really/Kinda/Sorta/Maybe Wanna
Susan Sontag's Promised Lands (Zeitgeist Films) — Buy it on DVD
.
A Time For Drunken Horses (Lorber Films) — Buy it on DVD
.
William S. Burroughs: A Man Within (Oscilloscope Laboratories) — Buy it on DVD
.
Lemmy: 49% Motherf**ker, 51% Son Of a Bitch (Red General Catalog) — Buy it on DVD
or Blu-ray
.
Waiting For "Superman" (Paramount Vantage) — Buy it on DVD
or Blu-ray
.
You Will Meet A Tall Dark Stranger (Sony Classics) — Buy it on DVD
or Blu-ray
.
Leave a Reply